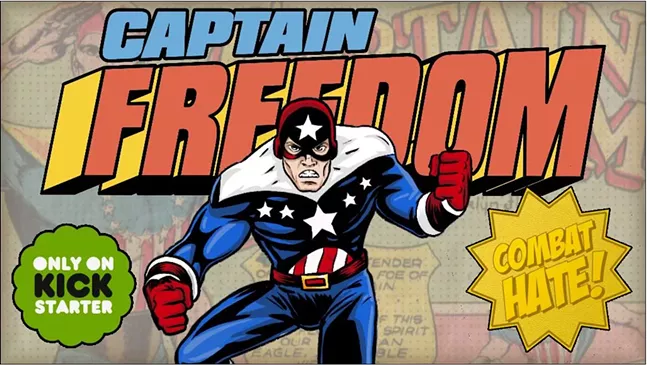 Remember the good old days when Americans unequivocally hated Nazis? Well, a new independent comic is hoping to rekindle those feelings. "Captain Freedom: Combat Hate" is the tale of Captain Freedom, a superhero who fights Nazi villains and Axis powers, and a recent effort is trying to bring his stories of taking down racist villains.
Captain Freedom will be written by California-based Dan Taylor and drawn by Westmoreland County resident and occasional
Pittsburgh City Paper
cover artist,
D.J. Coffman
. Captain Freedom isn't an original character. His first appearance was in Speed Comics No. 13 in 1941 and is credited as being created by "Franklin Flagg." The character is in public domain, and Coffman says now is the perfect opportunity to revive Captain Freedom, given the
public emergence of neo-Nazis
and white supremacists in
Charlottesville, Va.
, and other places.
"The comic-book fans, they need a hero to step up and fight this stuff," says Coffman.
So, Taylor, Coffman and several other comic-book-industry veterans are throwing their support behind the creation of a pilot issue of the new Captain Freedom. To get the project off the ground, they need some cash, so they started a
Kickstarter campaign
to raise at least $2,500. The comic will be part of the independent comic-book label Keep Left, which was created by Coffman and Taylor. Coffman says the more money they raise, the more pages the comic book will have.
Taylor says as some groups attempt to make racism and other hate-filled ideologies more normal, there needs to be an even stronger push to condemn it.
"In today's tumultuous climate fueled by racism and supremacists, our country, our world, needs heroes to step up and denounce hate when our political leaders will not," says Taylor in a press release. "While I do not condone violence, I feel that a war against hatred needs to be fought by those who stand against bigotry and racism. And the weapon we've chosen is resurrecting a comic-book superhero that fought the good fight in the Golden Age — a defender of democracy and foe of tyranny."
Coffman says the comic will be all-ages friendly, and that heroes and villains will be easy to distinguish (guy with American flag-like costume is good, and the people with swastikas are bad). Coffman says he was motivated to join this project because he was frustrated with seeing people he knows feel like they have to be silent on issues regarding race and hate.
"I want to punch back at it the best way I know how ... and that's drawing some friggin' comics" says Coffman in a press release. "My heroes are guys like Joe Simon and Jack Kirby, who taught me through their works that the pen and pencils are always mightier than swords."
Coffman also says that Captain Freedom's sidekicks, the Young Defenders, will be updated to represent a more diverse America and will include minority characters. He says that Captain Freedom is about spreading the American values of liberty to anyone who wants follow them. "Captain Freedom's one main star can represent many things, not just the U.S.," says Coffman. "The star can also be seen as the one star guiding African-American slaves to freedom."
Kickstarter donations come with prizes like signed copies and other memorabilia. The last day to
donate
is Fri., Oct. 6.