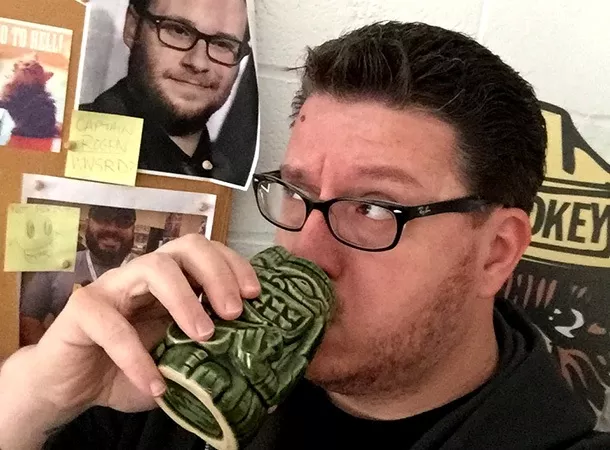 Comics artist D.J. Coffman is used to drawing on the spot. With years of experience in the comicon world, he often draws commissions at request for fans in his booth during comic-book conventions. His cover for City Paper illustrating last fall's inaugural Wizard World Comic Con was also on editor Charlie Deitch's list of
top 5 covers
of 2015. So when I came up with the idea to hire an artist to tag along with CP staffers to live-illustrate this week's
epic bar crawl
, Coffman was my first pick: He's not just quick, he's good.
Coffman tells CP he has been drawing as long as he can remember. His art teacher i
n high school told his parents he had "cartoon tunnel vision," and it's all he's ever wanted to do. "As if that were a bad thing?" He hails from Scottsdale, a small town just south of Pittsburgh. His day job — art director of Spreadshirt, North America, which produces print-on-demand apparel at
spreadshirt.com
— lets him use every skill set he has, from illustration to graphic and web design. "Keeps it fresh!" he says, calling it a "damn cool place to work with awesome people. I expect multiple high-fives at the office if they read this."
We armed Coffman for our bar crawl with a stack of white cocktail napkins, ballpoint pens and plastic bags for safe keeping. We later caught up with him over email after the Drink Issue hangover was gone.
So … what was it like hanging around with a bunch of drunk City Paper writers?
What a fun time! I think at one point there was a conversation about Bigfoot existing or not, which evolved into what version of Bigfoot, like the "snow one" or the one from "the woods." Any time you're around tipsy writers, it could lead to really fun things to draw! It was also funny watching the bartenders' faces when we all rolled in with our notepads and baggies of napkins and ballpoint pens and started asking them questions before they knew it was for the paper. We didn't tell them we were coming, so there were many "WTF?" looks given.
Were cocktail napkins a challenging canvas?
There's definitely no room for perfection or messing around, or those napkins are gonna tear on you. And you'll be like, "NAPKINS! WHY???!" Luckily these City Paper bar-crawl napkins were tough and on point. They weren't messing around.
Did you have a favorite stop on our crawl?
It's hard to pick just one. I would say it's a tossup between Lou's Little Corner Bar, just because of personality there, and Brew Gentlemen probably had one of the best beers ever. Hidden Harbor is also pretty damn cool. I used to be somewhat of a tikiphile and I know too much about that genre, so it's good to see a solid tiki bar open in the area.
How did live-illustrating the bar crawl compare to doing on-the-spot commissions at comicons?

Well, the lighting was horrible. Ha ha ... no, but it was, of course, very different. At shows I have a range of tools, markers, pencils, anything to make the art look top-notch for fans. At the bar, I had some napkins and ballpoint pens. But if anyone would have asked me to draw character requests on those napkins, I totally would have. Next time!
When you're not on the job, what's your drink of choice?

Guinness. Or Voodoo from All Saints Brewery over in Greensburg. Good people!
Have a favorite bar?

You didn't say in Pittsburgh, so I'm going to give a shout out to Bud Murphy's in Connellsville, PA for sentimental reasons. It also has the greatest pizza in Southwestern PA. Just saying.
I gotta ask: Have you ever been hired for a weirder assignment?

I thought this might be the coolest/weirdest request ever … then I recalled at Steel City Con, I once was requested to draw this completely bald man as a Wookiee. He wanted to be a WOOKIEE! I was like ... "So, uhm, you want the hair and all that, right???" "Yes, but no glasses," he replied. I mean, OF COURSE, no glasses. Duh!
Is there anything people would be surprised to know about you?

People are always surprised that I have three sons who are now 19, 18 and 15. My 18-year-old starts college in the fall, and I've been slinging more ink these days to help get him on his way. Newsflash: COLLEGE IS EXPENSIVE, YO.
Want to meet Coffman in person and get a sketch of your own? He'll be at the
Sci-Fi Valley Con
in Altoona this weekend. You can also follow him on
Instagram
www.djcoffman.com
and
Twitter
or visit his site at djcoffman.com.
Plus, you can revisit Charlie Deitch's profile on Coffman's contributions to bringing local artists to 2015's inaugural Wizard World Comic Con
here
.