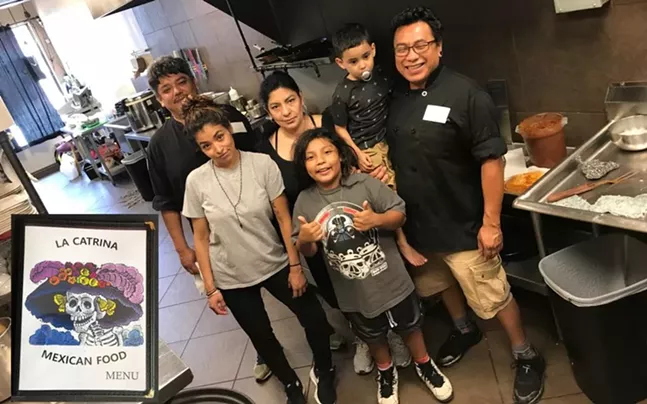 In May 2016,
City Paper
reported about the economic revitalization of Pittsburgh's Beechview neighborhood and the
role Latino residents were playing
. The South Hills neighborhood had been marked by several vacancies in its business district for decades, but over the last few years, Latino entrepreneurs have been opening up restaurants and other businesses, bringing vitality back to the neighborhood.
Recently,
La Catrina
, a new Mexican restaurant joined the ranks, and the owners are looking for a little help so they can improve their operations and offerings. Demetrio Aragon and his family have lived in the Pittsburgh area since 2000. Aragon worked in Japanese restaurants until one day his wife convinced him that the family should open up a restaurant to serve the traditional Mexican dishes they had trouble finding in Pittsburgh.
"My wife, it was her idea," says Aragon. "She saw the Hispanic population growing, and that there was a need for real food. We serve sopes, and tamales, but not like some I see here that are served unwrapped. We wrap ours up [in a corn husk]. That is the way it is supposed to be done."
Aragon says the restaurant, which occupies a space across the street from the IGA/Las Palmas grocery store on Broadway Avenue, has been open for more than three months, but the place still needs a griddle, refrigerator and mixer to become fully functional. Aragon, with help from the Beechview-based Pittsburgh Hispanic Development Corporation, is trying to secure a crowd-sourced loan through
kiva.org
. As of print, La Catrina's loan is 94 percent funded with only $550 left to reach its $10,000 goal, with only three days remaining to
contribute
.
"We just need some equipment," says Aragon. "It's just me and my wife and daughters. We don't have investors."
Ashleigh Deemer, chief of staff to Pittsburgh City Councilor Natalia Rudiak, wrote in an email to
CP
that La Catrina deserves a little support, so that Beechview can continue to grow economically. "Beechview has been a hidden gem for years, but Broadway Avenue's small-business culture is really taking off, and La Catrina is a perfect destination for anyone who wants to visit and see all Beechview has to offer," she wrote.
Aragon and his family live in Dormont, but choose Beechview to cater to the neighborhood's
growing Latino population
. Aragon is from the Álvaro Obregón district of Mexico City (the same district as deported immigrant-rights activist
Martín Esquivel-Hernandez
), and he says there is a big opportunity in Pittsburgh for ultra-authentic Mexican food because there aren't many authentic Mexican restaurants.
La Catrina specializes in many hard-to-find Mexican recipes, all crafted by Aragon's wife, Angelica. La Catrina offers
chilaquiles
(deep-fried tortillas bathed in chili sauce), lamb
barbacoa
(and a soup made from all the lamb's juices), and
sopes
(a corn masa dumpling typically topped with slow-cooked meats, lettuce and avocado).
Aragon says that all of La Catrina's traditional Mexican recipes are made from scratch, including all of the chili sauces that covers most dishes. La Catrina offers Tex-Mex food as well, but not all of those items are scratch-made.
Aragon says that La Catrina's clientele has mostly been Latinos looking for a taste of home, but many native-born Americans have also eaten there. He hopes that La Catrina will be a restaurant welcoming to everyone.