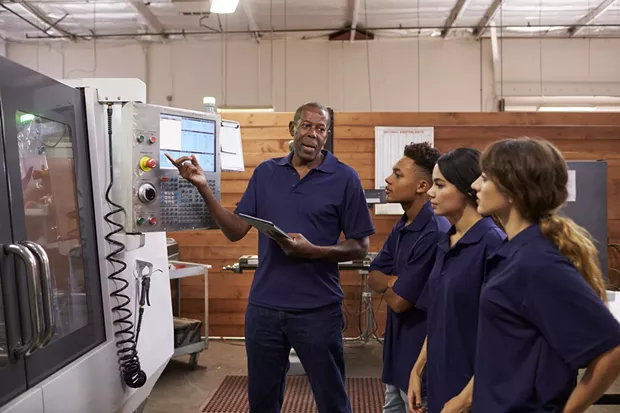 Over the past week, in honor of Labor Day, a number of institutions have published reports on the state of labor and employment across the United States. And while for years experts promoted a college education as key to finding a career,
recent reports
indicate there are numerous high-paying jobs that do not require a four-year college degree.
Today, as part of an effort to give people the skills to access these jobs, Gov. Tom Wolf and Allegheny County Executive Rich Fitzgerald announced the construction of a new Workforce Training Center at Community College of Allegheny County.
"We know that jobs exist for workers with the right skills, and this state and local partnership will create a new hub of training and STEM education for generations of students to compete in the economy," Wolf said in a statement. "Projects like this are critical to enabling the Pittsburgh regional economy to continue growing. This new center will provide technical education and training that we know employers demand. Our community colleges are an investment in our future."
The center will provide training in a number of fields, including culinary arts, cybersecurity, autonomous technology, digital technology, process technology, plastic technology, additive manufacturing, emergency medicine, nursing and the creative arts. There will also be noncredit programs designed to prepare students to meet the region's shifting workforce demands.
"Today's announcement of CCAC's Collaborative Workforce Initiative, including Gov. Wolf's commitment of funding for a building dedicated to workforce training, allows us to move closer to our goal of becoming the region's premier provider of workforce training," Fitzgerald said in a statement. "This effort is about making connections — between residents seeking work, the skills they need to succeed, identifying what employers need and want today and tomorrow — and ensuring that this focus is woven throughout everything that we do at the college."
The Department of Education will finance half of the annual cost of a 20-year, $20 million bond to construct the center, and construction is expected to begin in late 2018. According to Board of Trustees Chairman Frederick Thieman, the center will be designed to meet the workforce-training needs identified in studies conducted by Allegheny County.
"We appreciate the support from Gov. Wolf and the Department of Education in helping CCAC to launch this multi-phase strategy to bolster a workforce- and workplace-development program that is already among the best in region thanks to the efforts of Dr. Bullock and his team," Thieman said in a statement. "This week, our board will formally acknowledge this funding and continue its planning to strengthen the connections between CCAC and the university and the corporate communities."
A recently released report by jobs website
Career Cast
used data from the Bureau of Labor Statistics and rankings from the 2017 Jobs Rated report to come up with a list of the top 20 jobs that don't require a bachelor's degree. Ten of the jobs on the list are in the health-care industry and other fields include web development and plumbing.