By turns hilarious and sinister, and sometimes both at once,
Collaborators
is an exceptionally engaging evening of theater. Playwright John Hodge's satiric drama imagines an almost-plausible 1930s collusion between famed writer Mikhail Bulgakov and Soviet dictator Joseph Stalin.
As history and biography, the play takes us only so far. But it's a fascinating — and highly entertaining — rumination on the relationship between politics and art and a terrifying exploration of the price of moral compromise.
In the play, a secret policeman proves oddly chipper; Bulgakov's relationship with Stalin feels weirdly dreamlike (and might, it occurred to me, actually be a dream). The show's aspects of madcap, absurdist humor rub shoulders with its moments of mortal danger — a mix surely informed by director Jed Allen Harris' long experience doing political theater, as well as his work in the former Eastern Bloc nation of Bulgaria.
The cast shines; Marty Giles devours the role of Stalin. That the building in which the show is staged is purportedly an old livestock-processing building in a warehouse district adds something, as does the sound of the train that intermittently passes on the adjacent tracks.
Here's Michelle Pilecki's
review
of the show for
CP
.
A further note: These days, all political art — even if, like Hodges' play, it dates to 2011 — begs analysis in the context of the current political climate. This production of
Collaborators
, moreover, truly seemed to ask for it: Early versions of Quantum's promo image (as sent by email) depicted two men shaking hands while concealing weapons, one man clearly Stalin, the other, sporting a distinctively contoured blonde man-bouffant, surely meant to suggest Donald Trump: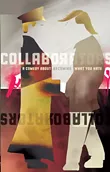 But curiously, the program I was handed at the show this past Friday had a new color scheme — both men's hair was now maroon — and both the bow and stern of "Trump's" hairpiece had been trimmed.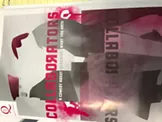 I asked Quantum artistic director Karla Boos what had happened; I was ultimately told, by Nathan Davidson of Little Kelpie, the design studio Quantum hired to create the image, that there was no intent to move away from the Trumpier iteration: "I suspect what's happened is that an early version of the show art was used as a place-holder on the program and we never noticed during layout and proofing," Davidson wrote in an email.
That original image, by the way, survives on
Quantum's web site
— and also, to my eye, in the production itself, in Giles' iron-gray wig, which styling-wise might be called "Stalin in the front, Trump in the back."
Boos, for her part, says via email that she liked the original artwork for its identification of Trump not with Stalin (with whom he's depicted merely shaking hands), but with the Bulgakov character — "the guy with the moral dilemma."
In real life, Trump is so far less a Stalinesque despot than an amuck plutocrat. On the other hand, in
Collaborators
, Stalin does say, "Killing your enemies is easy. The challenge is to control their minds," which does resonate disturbingly in a world of presidential lies and "alternative facts."
Collaborators
continues with 10 more performances tonight through April 30. Tickets are $18-56 and are available
here
.
The venue is at 6500 Frankstown Ave., in Larimer.