In the early 2010s, the term "pop punk" had essentially become a slur that any melodic punk band who were too cool for Warped Tour (i.e. anyone who cited Weezer over Blink-182 as an influence) attempted to avoid at all costs. For many reasons, the embarrassment was justified.
What had originated as an easy catch-all for punk you could sing rather than scream had become a watered-down, cult-like clique of early twentysomethings pandering to teens with the same cliches of heartbreak and wanderlust that Blink, New Found Glory and hell, even Simple Plan exhausted a decade before.
By 2013, this largely irredeemable cluster of Warped-endorsed clones (The Wonder Years are the most apparent exception) had become so disillusioned with what their music even meant, that the phrase 'Defend Pop-Punk' — created and sold en masse by the iconically wimpy Man Overboard—became the only slightly ironic mantra of their movement. They must have been completely unaware of bands like P.S. Eliot, Lemuria and anything Jeff Rosenstock touched who were modestly making hooky punk at a safe distance from the local A Day To Remember show.
Things got so hilariously bad that bands like Joyce Manor and The Hotelier began openly dissociating themselves from the tag — both were and still are indisputably pop-punk, albeit leagues above State Champs and The Story So Far — in order to keep up their indie-minded appearances.
However, 2017 appears to be the year in which pop-punk is cool again. Like, Lawrenceville cool. Part of this is due to music journalists and hipsters growing fed up with having to refer to
Never Hungover Again
as a "power-pop" album (LOL), but it's mostly because bands like PUP and Charly Bliss are writing really, really unique and invigorating pop-punk songs, and performing them tight as hell.
The two bands played Spirit, in Lawrenceville, last Tuesday to a few hundred fans of all ages, proving that sincerity, talent (both bands freakin' shred) and a self-aware sense of humor are all that's needed to freshen up the genre. Shockingly, there was no opening band, which was initially a cause for concern but quickly became a blessing, allowing both bands to play longer sets with plenty of deep cuts.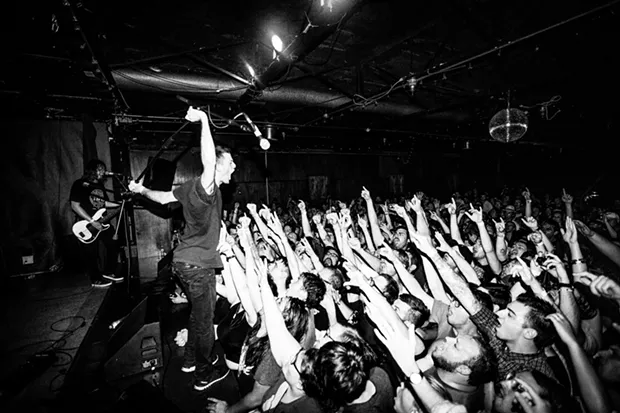 Charly Bliss went first, nonchalantly strolling onstage amidst a din of chatter that settled promptly as Eva Hendricks took her position in front of the mic. She eagerly introduced the band and thanked everyone for being there, smiling brightly and speaking as giddily as she sung on the band's debut album
Guppy
, which dropped in April.
Despite taking nearly three years to follow up its lovable yet disappointingly short three-song EP
Soft Serve
, the Brooklyn four-piece was met with a rousing reaction from the music press during
Guppy
's release cycle: a stream on NPR, an Album of the Week nod from Stereogum, favorable reviews in Pitchfork and PopMatters; and one of the highest scores on Metacritic for any 2017 album thus far. The record is 10 cuts of pure pop-punk bliss (pun intended) that doesn't let up but doesn't overwhelm you during its 30-minute runtime. Every song's a legitimate earworm but there are enough grungy riffs, glitzy synths and razor-blade guitar solos to keep the Pixie Stix choruses in check and prevent it from being anything other than an addicting slab of rock 'n' roll.
After Hendricks' brief intro, the band ripped into "Percolator," the first song on
Guppy
, and immediately sounded as good as they do on record — a testament to both its tightness and its ability to replicate such enthusiasm in the studio. There really isn't any other word that describes Hendricks better than effervescent. She was bouncing, beaming and playfully nudging her bandmates throughout the set, and her striking high-pitch voice cracking and squeaking sounded as if she simply couldn't contain the amount of fun she was having. She belted all of the well-timed squeals from
Guppy
(the one preceding the guitar solo in "Percolator" never gets old) and nailed nearly every high note (minus the final chorus in "Scare U"), continuously thrashing and bopping as she sung. The other members were visibly having a ball as well; guitarist Spencer Fox was at one point contorting his neck until he was practically singing upside down, and he and bassist Dan Shure were shooting each other looks that had them bursting into laughter mid-song.
They played through nearly all of
Guppy
, two promising new tracks and concluded with Hendricks ditching her guitar and jumping around like a madwoman while the band riffed, eventually going into "Love Me" from
Soft Serve
and collapsing to the floor as it finished. Although Charly Bliss played like it was headlining a stadium, most of the attendees were there for PUP, which became instantaneously obvious when the Canadian quartet smirkingly walked out to a hip-hop hype song and were met with a room full of cheers.
They quickly burst into "Doubts," an odd choice for an opener but a comforting indication of where the night was headed: deep cuts. The band were still able to play all but two songs off its successful 2016 record
The Dream Is Over
, but the hour-long set gave them ample time to play a number from its beloved self-titled debut as well. More erratic tracks like "Mabu" and "Factories," as well as the slow-burning "Yukon," sounded great alongside huge sing-alongs like "Can't Win" and "The Coast."
However, the biggest surprise of the night was the momentous crowd reaction. The push-pit was active yet joyous (not violent) all night; the stage-diving climate was supreme; and virtually everyone in there was hollering back every chorus and one-liner from beginning to end. The amorphous blob of boisterous bodies was disgustingly sweaty, but the fans seemed to bask in the humidity, using the perspiration as petrol to fuel their endless bouts of youthful exuberance. PUP was eating it up, angling their mics to the crowd and even inserting an additional few measures into the melodious "oh-oh" section in "Sleep in the Heat," which is probably the most live-friendly passage in its entire discography. The classic test of "how well do these people know us?" was administered during that moment, as the instruments cut out and the room continued to bellow along collectively. They passed with flying colors.
Two-and-a-half-years ago I saw PUP play to 20 intrigued yet completely unfamiliar folks in a 100-capacity venue in upstate New York. It was the last of 250 shows (no joke) that the band played in 2014, and despite only myself and one or two others singing along upfront, the band played like it was packed out. Singer Stefan Babcock even climbed the monitor and jumped off during a menacing cover of Beastie Boys' "Sabotage." On Tuesday, the band referenced their bewilderment at how large its fan base had grown, mentioning how it feels like just yesterday that they were playing to 10 people in a bar — and they played just as hard on Tuesday as they did two years ago.
That's punk as fuck, and to be honest, that's really what all of those aforementioned pop-punk acts lack(ed). That punk authenticity. Both PUP and Charly Bliss have it, making them the only defense the genre needs.