It's hardly the first play in which humans portray animals, but it's the only one I know of in which all the actors are double-cast as domesticated fowl. And it really works.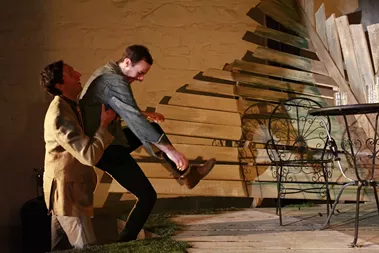 Three performances remain of
this show
, which is Quantum's new production of a play originally staged by the Pittsburgh-based
Hatch Arts Collective
. (It's also Quantum's first offering from its Gerry Kay New Voices program, a promising initiative to link the established troupe with emerging stage artists.)
The play's about three families at differing stages of formation or dissolution, represented by four characters occupying a Pittsburgh rowhouse in a neighborhood that just might be Lawrenceville, where the show is actually staged, Quantum-style, in a purpose-built space in an artist's studio.
Here's Michelle Pilecki's
review
for
CP
.
Theatrically, the most striking element is the actors' aforementioned mercurial transitions from human to chicken; traits like chickens' sudden, inexplicable eruptions of activity are handled spot-on. The effect is at once comedic and poignant, and Laurie Klatscher, in particular, makes superlative chicken noises.
At one point, Klatscher's character says of the birds, "It's like they're so stupid, it takes several of them to make a whole mind." Then the lighting shifts, and all four actors turn chicken. The point might seem blatantly made — that when you come to it, people aren't much better at coping with life than are the chickens we keep — but
Chickens in the Yard
communicates the idea with nuance, deep feeling and layers of thoughtfulness.
The final performances are tonight, tomorrow and Sunday's matinee. Tickets are $30 and are available
here
. For student tickets, call 412-362-1713.
The show is staged inside JAVO Studios, at 5137 Holmes St., in Lawrenceville.