Three performances remain of this highly entertaining "farce to make you sad."
That summary quote is from original playwright Michel de Ghelderode, whose 1929 political satire as newly adapted by Jay Ball gets its world-premiere production at Quantum Theatre.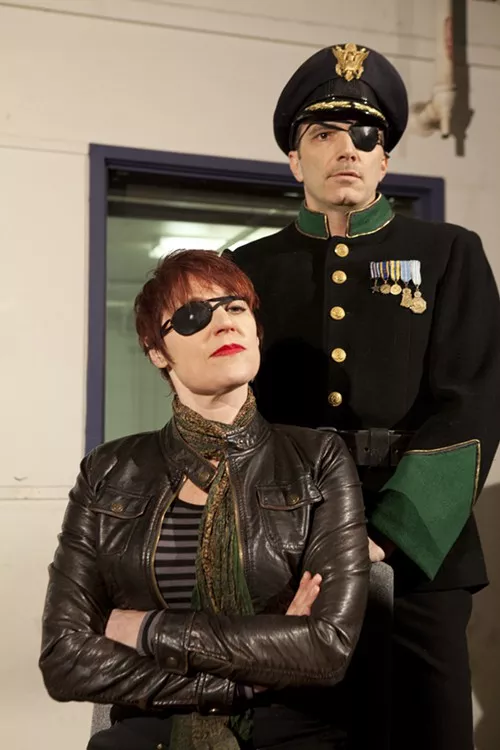 Lisa Ann Goldsmith and Tony Bingham in "Pantagleize"
In the dog-eared but characterless interior of a medium-old warehouse in Point Breeze, director Jed Allen Harris and the troupe create a tiny, unnamed, fictional Eastern European nation. An energetic cast having way too much fun puts over the Marx Brothers-ish story of a blinkered, aging-hippie American poet visiting this "country the size of Wales" and getting caught up in a nascent revolution against an authoritarian government.
Pantagleize is plenty funny. (Don't take your eyes off Tony Bingham, as the hyperactive Prezidente; he's a madman, and he nails every inflection and gesture.)
But how sad is it?
While the production's iconography shouts Iron Curtain, the adaptation seems set roughly, today. With references to the revolutionaries as "overeducated, underemployed twentysomethings," Ball's goal is to skewer all modern political struggles, from the 1960s student protests in Czechoslovakia (a direct inspiration for Ball's take) to Occupy, and he does it smartly, bitingly, with an hilarious but ultimately mournful cynicism.
Particularly poignant is the titular poet's confession that he's "outlived my capacity for outrage."
Political struggles are always fraught, not least because of the shortcomings of the revolutionaries themselves. They don't always fail, of course: Czechoslovakia's short-lived Prague Spring, for instance, presaged (by a couple decades, admittedly) the Velvet Revolution, which playwright Ball witnessed firsthand.
Still, in the world of Pantagleize, while hope can't die, it can never really win, either.
Here's Michelle Pilecki's admiring review for CP.
Three more performances remain, tonight through Sunday. The show's at 400 N. Lexington Street.
Tickets are $36-46 and are available here.