"Sold Out!"
That's what the front door of Brillobox said on Saturday night as Donora was set to perform the final show of their Play Nice Tour. Presented by Opus One Productions, the locally bred band was joined on this night by fellow Rostrum Records electro-pop/rock group Teammate.
On a snowy night in Pittsburgh, hundreds of fans found shelter inside the Bloomfield club. The tour that started earlier this month took Donora and Teammate on the road to ten other cities throughout the Midwest and East Coast. The tour promoted Donora's new release, the Play Nice EP. It also helped introduce audiences to Teammate, who plan to release their debut project in the coming months.
After an opening set by acoustic artist Greg Dutton, Teammate's Dani Buncher and Scott Simons took the stage. Buncher on drums and Simons on a dual-keyboard set-up, the duo received a warm welcome from the growing Pittsburgh crowd.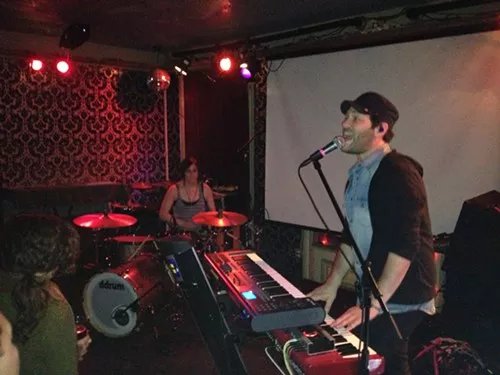 A few songs in to their set, the opening bassline to their new single, "Girls With Boys' Names," rumbled through the room as Simons began singing the song's opening line "she shoots down everything, even your best intentions". Another highlight of Teammate's was a song that showcased Buncher as the main vocalist as she simultaneously maintained the beat on her drumset throughout the song. Their set closed with the previously released single, "Sequel," which had the audience mimicking the chorus aloud. Having showcased a number of catchy tunes about the opposing emotions that are attached to love and heartbreak, Teammate's performance instilled high anticipation for their soon-to-be-released debut album.
Donora followed the great performance by Teammate with one of their own. In a glittery red shirt, lead singer Casey Hanner was joined on stage by bandmates Jake Churton on guitar and Jake Hanner on drums. They performed their hits, including to new EP's title song, "Play Nice," and popular single from their prior album, "And Then the Girls".
Throughout the set, Ben Tabas provided visuals on a projector screen that covered the wall behind the stage. The visuals certainly added to the quality of the overall show experience, as they often aligned with the lyrics of the songs — for example, the visuals for my personal favorite song from the new EP, "Under the Lights," showed vintage video of couples dancing blended with video of rows of light bulbs lighting up.
What Casey said was the last song of their set on this tour, "Boom Boom" had the entire room dancing, as anyone standing still could feel the black-and-white checkered floor shaking beneath them. For this homecoming and final tour stop, the band agreed to perform a few more songs. "The Chorus," engaged the audience to put their hands in the air and clap along to the beat. They aptly closed the tour on this Saturday night with "Weekend Tongue," which again had the jam-packed audience singing along.