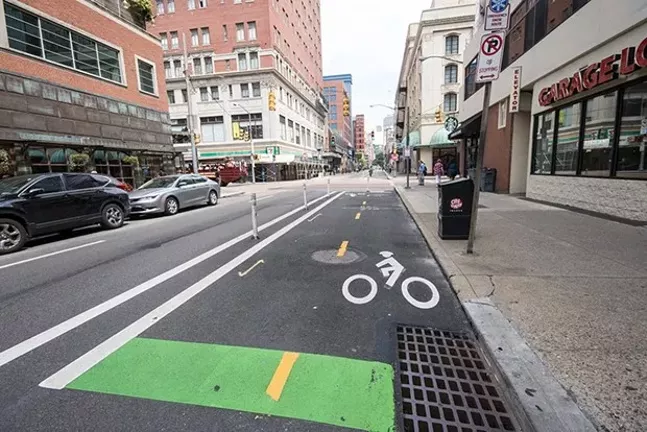 On May 30, the Twitter account for the Pittsburgh Parking Authority issued a warning to drivers: if you park in a bike lane, you will get a ticket. The tweet was accompanied by a photo of PPA officer issuing a ticket to a pickup truck parked inside the protected bike lane on Penn Avenue.
This tweet retweeted more than 50 times, received more than 120 likes and several replies from people thanking PPA.
With some added attention to the authority, PPA director of on-street parking John Fournier says it's a good time to remind Pittsburghers that PPA supports alternative modes of transit. PPA isn't just
dedicated to cars
.
"The parking authority has a really strong commitment to supporting multi-modal transportation in the city," says Fournier. "We have bike facilities, we have worked with bikeshares to find locations. We are very much in the mix in those things."
Since the development of bike lanes in Pittsburgh over the past few years, PPA has relied on the biking community to point out areas where cars typically commit parking violations, like the Downtown protected bike lane on Penn Avenue, and the new bike lanes on Negley Avenue in the East End.
Fournier chalks up the repeated parking violations to a lack of cultural change in response to bike infrastructure.
"Things like handicap parking spots people know," says Fournier. "But because the bike lanes are new, there needs to be a cultural shift there. Anything we can do to get the message out is good. I certainly think people are adapting, but obviously we have more work to do."
Handing out tickets isn't the only solution, either. Fournier says PPA will continue to issue tickets to parking scofflaws, but hopes all Pittsburghers will continue to educate people on the proper use of parking spaces and bike lanes. He says it's more about
public safety
than issuing tickets.
For example, if a car is parked in the protected bike lane on Penn Avenue, a cyclist riding outbound towards the Strip District will have to exit the protected lane and head into one-way traffic to avoid the parked car.
"It's a public safety concern," says Fournier.
Above all, Fournier says reminders to the public about parking in bike lanes is about showcasing the city's and PPA's support for bike infrastructure.
"Our bike infrastructure is really an asset and we want to do everything we can to promote it," says Fournier.