Armed with saxophones and bagpipes, bearing sign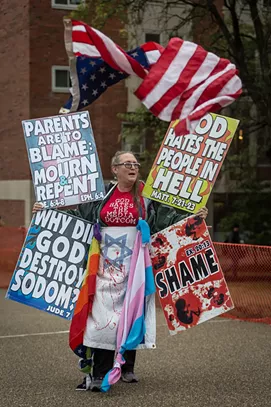 s of both love and anger, 100 people stood nervously on Carnegie Mellon University's campus.
Then, grabbing a microphone, Victor Tavarez, a CMU student and member of CMU Allies, a campus gay-straight alliance, moved to the center of the group to warm up the crowd."We're a little new to this," Tavarez said. "Let's get our blood rushing, and get excited."
In rounds, the group began to chant, each one stronger than the next: "Hey hey, ho ho, homophobia has got to go." It was a battle cry to prepare the group to join hundreds of other Pittsburghers who gathered Thursday afternoon to wage a war of love and noise against the members of the religion-based hate group, the Westboro Baptist Church.
Westboro, a Topeka, Kan.-based church described by the Southern Poverty Law Center as "a family-based cult of personality" and "arguably the most obnoxious and rabid hate group in America," planned to demonstrate in small groups throughout Oakland and Uptown yesterday from 1-3 p.m. Over its years of high-profile demonstrations, it has protested the funerals of everyone from dead soldiers to the LGBT community to Pittsburgh native son and kindly television host Fred Rogers.
Under gray autumn skies, members of Westboro returned to Pittsburgh with a busy schedule — with plans to picket outside CMU, Oakland and Central Catholic High School, the University of Pittsburgh and Duquesne University. At 1:30 p.m. sharp, four WBC demonstrators got out of a white van, bearing tall colorful placards saying "God made you male or female. Be content and obey him" and "Jesus will return in wrath."
The group released a statement saying this demonstration was against LGBTQ acceptance on campus, with a special emphasis on transgender individuals.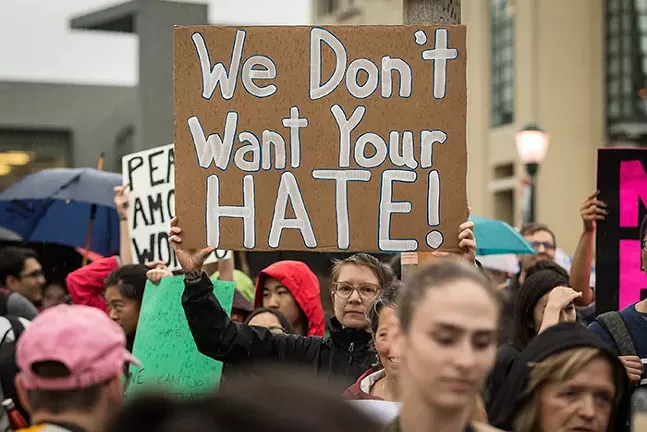 Between the hate for trans people and Mr. Rogers, Bridget Coyne had plenty to fire her up. A Squirrel Hill resident and board member of SisTers PGH, a group that shelters homeless black-trans youth, Coyne stood catty-corner to the WBC demonstrators at the corner of Forbes and Morewood avenues. From there, she yelled through a bullhorn that the group was not welcome in Pittsburgh.
"It's important to respond to their hate," Coyne said. Perched on Coyne's head was a viking hat, complete with long blonde braids which she said made her feel ready for battle.
The fight that developed was not one of punches, as Tavarez said as he rallied the Allies group. Instead, it was waged through the ears. When Westboro members began singing songs, including claiming nonbelievers would be swept away, two protesters — one with a set of bagpipes, another with a snare drum — began their own impromptu concert. The shrill notes elicited cheers from the crowd, many clad in rainbows, and drowned out Westboro.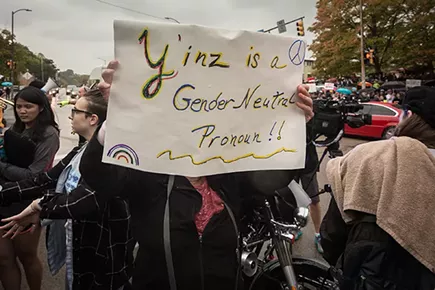 On Friday, the group plans two more area pickets — one outside Pine-Richland High School, and one outside the Society of Environmental Journalists Conference in Pittsburgh. Coyne said SisTers PGH plans to also counter the rally outside Pine-Richland. The school had been sued by three transgender students after the district initiated a policy that restricted trans students to using only a unisex bathroom or the bathroom corresponding to their birth gender. Earlier this summer, the school board rescinded the policy and
paid each student roughly $20,000
each to settle the lawsuit.
But, back on Forbes Avenue, even as the overcast skies gave way to a hard, cold rain, the enthusiasm didn't wane. Wearing a bright-red brassiere and high heels, Miss Diagnosed was holding a sign that read "I'd rather be at brunch."
Rather than munching on a nice sandwich, she said she "had to be out here protesting hateful people."
While the Westboro demonstrators idly kicked a rainbow American flag between each other, the protesters formed a dance circle. Wildly bouncing up and down and cloaked in their own rainbow flags, they chanted "bigots can't dance" to a funky backbeat.
Finally, as the rain feel in sheets, the Westboro demonstrators retreated to their white van and drove off down Forbes Avenue. While their schedule noted four more protests for the day, they did not appear again outside any other school.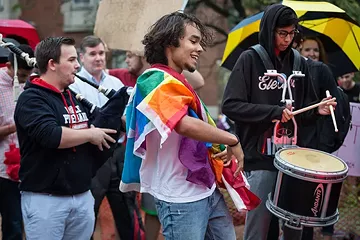 In a tweet, Jael Holroyd, a WBC member, said the group abandoned the day's efforts because of the rain.
"If you can't see through the torrential rain, you wouldn't have been able to see our signs." Holroyd said. "God prevents us, at times. This is His ministry."
But even if the rain drove Westboro off, protesters still gathered at the other locations on its schedule. JP Leskovick, a junior at Pitt, organized one of those groups, huddled under the porch of university's student union on Fifth Avenue. He said he was "pretty hype" the church didn't stop by.
"Not only do we not need to yell at them, but it shows they care more about attention than their values," Leskovick said.
Back at CMU, as Westboro peeled off from what turned out to be its only picket of the day, the crowd erupted in cheers. Drums beat the distinctive rhythm of "We Will Rock You" as hundreds of voices began to sing the chorus.
Standing in the middle of the crowd was P. Madden, an LGBT grad student at CMU. Wearing a rainbow flag as a cape and Looking around at the outpouring of love in the face of Westboro, she smiled.
"This is everything I dreamed it would be," she said.