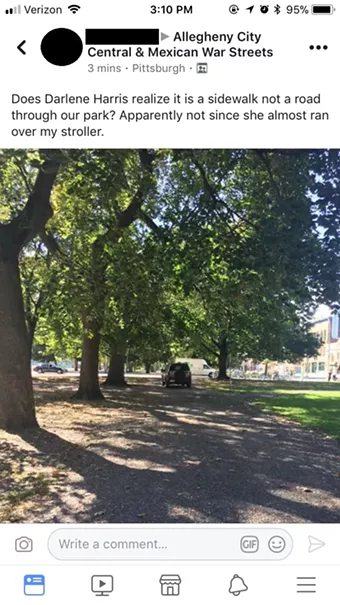 In April,
Pittsburgh City Paper
reported about a video showing Pittsburgh City Councilor Darlene Harris honking at a cyclist who was obeying all traffic laws and yelling at him to
"get in the damn bike lane,"
when there was no
bike lane
to ride in. This video was from 2016, but the story ran when Harris was running for mayor.
Now, it appears Harris and her gold Jeep are drawing ire again. A now-deleted Facebook post shows a Jeep that matches the description previously reported by
CP
driving in the pedestrian path in Allegheny Commons Park in the North Side. The post's author writes: "Does Darlene Harris realize it is a sidewalk not a road through our park? Apparently not since she almost ran over my stroller."
CP
reached out to the post's author, who asked not to be included in the story, but Harris confirmed that she was driving through the park in a
Oct. 5 Facebook post
that reads in part: "I have received reports that some people are upset that I was using my vehicle in a park. I'm so glad that we have such vigilant citizens who are willing to report what they think is wrong, but I'm here to set the record straight. I was out on business personally investigating complaints that I had received from my residents."
The post from the North Side resident received a lot of comments on Facebook when it was posted on Oct. 4, but was taken down relatively quickly. Still, Harris indicates in her post that people were "jumping to conclusions" when accusing her of any wrongdoing. Harris writes: "If anyone has an issue with me in the future — no matter how big or small — I invite you to contact me directly so that we can have a conversation. I have dedicated my life to public service and don't plan on stopping any time soon. I was out serving my community and will continue to do so!"
One Harris constituent spoke to
CP
and was upset about Harris driving in the park.
"I am not very happy it, I live across the street from the park," says Zandrea Ambrose, who has lived in the Mexican War Streets section of the North Side for 10 years. "It is concerning that she is driving in there. … I don't think I have ever seen a car in the park, outside of an event, or city park vehicles."
Ambrose says she rarely sees cars driving in the park, and they are always official vehicles when she does see them. She was not present when Harris was seen driving in the park, but says that Harris' history of accosting a cyclist makes her a bit anxious.
"I think there is a problem with driving in the park. There is a playground with kids, and there is a dog park," says Ambrose. "Lots of people walk through the park, bike through the park. We know how she feels about bicycles. She does not seem like a
person who will yield to bikes
. I do feel like it is a safety issue."
Pittsburgh Mayor Bill Peduto spokesperson Tim McNulty noted that Department of Public Works vehicles enter the park to help set up for events, like the farmer's market, and for trash pickup. McNulty reached out to the city's parks department to see if public officials are barred from driving on paths in the park, but has not received a response.
He says that city vehicles drive slowly and turn on their flashing lights when driving in the park, and notes that others should avoid driving in the park. "Parks are places where kids play, we express extreme caution when anyone is driving in there," says McNulty. "In no way would we want to encourage anyone to drive into one of our parks."
Ambrose is also upset with Harris' refusal to answer constituents' questions about why she felt it necessary to drive in the park. Dozens of responses flooded the councilor's post. Some were praising Harris for her "dedication" to the community. Some were critical of why she was driving in the park, and asked for an explanation. Harris overwhelming responded to the praising posts with thanks and emojis, but ignored almost all of the posts that demanded a more thorough explanation of why she was driving in the park.
Mason Palissery, of Harris' office, said
Harris
was unable to issue a comment because she was at a doctor's appointment.
CP
will add a statement from Harris, if and when she provides one.
Ambrose thinks Harris is trying to distort her constituents' requests by selectively responding on Facebook. "I don't understand why she can't tell us what exactly the business was she was attending to," says Ambrose. "She is not being forthcoming. I do think it is manipulating."
Another longtime Harris constituent and North Side homeowner, Terry Wiezorek, also expressed frustration with her councilor. "I'm furious that [Harris] drove on the walkway and a mother with a stroller felt she was in harm's way," wrote Wiezorek in an email to
CP
. "There are roads around and through the park from which she could have seen just as much as from the walkway. I'm furious that on Facebook she derides anyone who questions her 'official business' and she says, on social media, that people who oppose her must be renters with no life. I've commented that I am no such thing and even said I know she won't reply to me because I just refuted her assertion about anyone who would oppose her."
Also, a few commenters on Harris' post indicate that the councilor blocked them after they posted a response. One wrote, "I am now blocked. For literally just asking for an explanation in a nice way. How is that legal?"
Furthermore, Harris' responses to her post appear to belittle some of her constituents, and one even supported a homophobic insult of Mayor Peduto. One person posted a defense of Harris that reads: "It's always the same few people that keep things going. They need to get another hobby than seeking you out Darlene !!"
Harris replied to this post, saying in part, "They don't have a life or are probably renters, they don't love these communities or they would be helping to clean up our parks and help rid our parks of problems."
One woman, who lives in Mount Washington, outside of Harris district, defended Harris for working hard and then insulted Peduto. This woman then wrote: "Judging by the size of [Peduto's] big ass, no he doesn't know what walking is. As far as riding, I heard he prefers firemen to Bicycles." Harris liked this post.
As for Ambrose, she feels let down by her councilor's actions. "I am disappointed in Ms. Harris," says Ambrose. "I don't feel she explained what she is doing. I don't think she is responsive. I think this is an ongoing problem."