Momentum seems to be building to remove Oakland's
controversial
Stephen Foster statue.
For decades, critics have considered the 117-year-old statue — which depicts the Pittsburgh-born 19th-century composer with a banjo-playing African-American man at his feet —
to be racist
, and sought its removal from a prominent corner in Oakland. But following the
fatal battle
in Charlottesville, Va., over Confederate monuments there, calls to take away the Foster monument acquired a renewed urgency, and Mayor Bill Peduto called on the city's Art Commission to begin discussing its fate.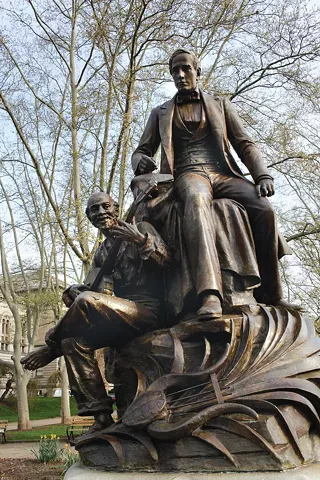 About 80 people turned out for last night's special Art Commission hearing. Of the two dozen who gave public comment, most advocated transplanting the statue to a non-public venue where viewing it would be voluntary and include some kind of interpretative material.
"I think that we should remove it and place it somewhere where it can be contextualized," said Brittany Felder, a recent graduate of the University of Pittsburgh School of Law and one of several members of the Pitt community who advocated removal. Pitt's campus is adjacent to the statue's location outside the Carnegie Museum complex.
Also speaking for removal was Renee Piechocki, executive director of the city's Office of Public Art. She called the statue "a monument to racism" that depicts "a caricature of an African-American man." Several commenters noted the seated musician figure's contrast to Foster: grinning, raggedly attired and barefoot, while the composer looms majestically above.
Delores Dupree, of the National Council of Negro Women, said the statue depicts a "white man in a dominant, oppressive posture over a black man subserviently playing a banjo at his feet." She called the 10-foot-tall bronze sculpture "offensive to African Americans" and asked the commission to consider its impact on children.
Sallyann Kluz, of East Liberty, said that to remove the statue — which she said is one of only three depictions of African Americans in the city's entire public-art collection — would be to "stand against white supremacy." (Kluz is associate director of the city's Office of Public Art, but spoke as a private citizen.)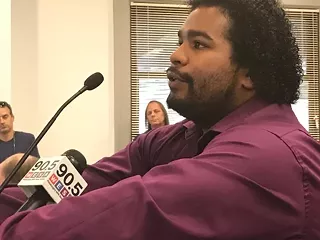 Comments at the hearing, held at Downtown's John R. Robin Civic Building, mirrored written comments previously submitted to the art commission. The commission received 126 written comments, 60 in favor of removing or relocating the statue. Nineteen other written comments advocated altering the statue or adding signage to provide historical context.
Only one speaker last night recommended destroying the statue. "I really hate that statue … I think you should melt the metal part down and make a little change for you," quipped Billy Hileman, of Oakland. "I don't want to be a part of it, and I don't want my city to be a part of it."
Only a handful of speakers at last night's hearing joined the 32 submitters of written commentary who advocated leaving the statue where it is. Marshall Goodwin, a life-long Oakland resident, said that when he first encountered the statue, as a child, "There was something inspiring to me about it," especially in the expression on the face of the musician, which he read as joy at making music. While acknowledging the history of whites exploiting black musicians, Goodwin said, "Music has been the one place where race doesn't matter. … To me that's what the statue is representing."
Oakland resident Theodore Ley told the story of Alfred Jackson, a slave of president Andrew Jackson, who after Emancipation remained on on the plantation and asked to be buried near his former owner. Ley referred to the banjoist figure, sometimes referred to as "Old Ned" for the sheet music held by the Foster figure, the title of one of Foster's best-known songs. "Don't hide Ned," said Ley. "I am rooting for Ned and not Stephen Foster."
It was hard not to notice that while critics of the statue were both black and white, young and old, male and female, all its defenders were older white men.
The monument was made by sculptor Giuseppe Moretti based on a design by a committee of local elites, including banker Andrew W. Mellon and parks director Edward Manning Bigelow. It was originally, and to great fanfare, placed in Highland Park, and moved to Oakland in 1944 (ironically, so it would be in a more prominent location). The idea was to depict Foster, whose early career was built largely on songs ("Oh! Susanna" and others) written for blackface-minstrel shows, taking inspiration from the music played by an elderly slave.
However, the original stated intent behind the statue — along with the real Foster's own attitudes toward black people and slavery — are irrelevant to many critics. "When I see this Old Black Joe, I am not inspired in any way," recent Pitt Law grad Sean Champagne told the commission, using another common name for the musician figure. "It trivializes the issue of slavery."
"Interpretative signage is not enough," said Champagne, echoing other speakers. Andrew Ellis Johnson, an art professor at Carnegie Mellon University, said that the statue's racist message is inherent in its design. "It is precisely because of its power that it must be removed" and placed somewhere in context, Johnson said.
Indeed, a few commenters noted that, in the right setting, the statue would be useful in teaching about American racism. University of Pittsburgh professor Shirin Fozi, who teaches the history of art and architecture, said she uses the statue in her classes. (Interviewed after the hearing, Fozi noted that the statue is an ongoing topic of conversation in Pitt's art department, and that last week someone on campus had hung posters urging people to attend last night's hearing.)
Several speakers also emphasized that removing the statue need not diminish
Foster's admittedly complex legacy
, which some contend includes status as the world's first full-time professional composer of popular songs, and certainly as the most popular songwriter of his era.
The fate of the statue is now in the hands of the nine-member art commission, which will deliberate and vote on the issue Oct. 25, at its next regular meeting. A two-thirds majority is required to alter any public art.
Kirk Savage, a University of Pittsburgh art professor and expert on public monuments in the U.S., attended the meeting but did not address the commission. Savage said the Foster statue is the first depicition of an African American in public art in Pittsburgh, and among the first in the country.
However, he says, the statue is "a racist representation." Like most public art of its time, it was designed by a handful of civic elites who "lived in a white supremacist, segregated society." He adds, "The idea of the faithful slave dies so hard … it's a really, really powerful myth in our society."
Savage favors moving the statue to a museum. "I think it has an interesting story to tell us. I don't think it can tell that story in a public space," he says.
Prior to the recent spate of
removals of Confederate statues
, says Savage, the removal of public monuments for reasons other than pure aesthetics, or to make way for new development, is a meager one.
The few prominent examples include two larger-than-life marble sculptures that for more than a century adorned the eastern façade of the U.S. Capitol, in Washington, D.C. "
The Discovery of America
" depicted a heroic Christopher Columbus towering over a nearly naked Native American woman; "The Rescue" portrayed a huge white frontiersman restraining a bare-chested, tomahawk-wielding Native American man about to attack a cowering white woman and child.
Both statues dated from 1837-40, and flanked the steps where, for decades, presidents were sworn in. In 1958, says Savage, after years of complaints about the sculptures (and in preparation for renovations to the building), they were "quietly removed … without debate or discussion."