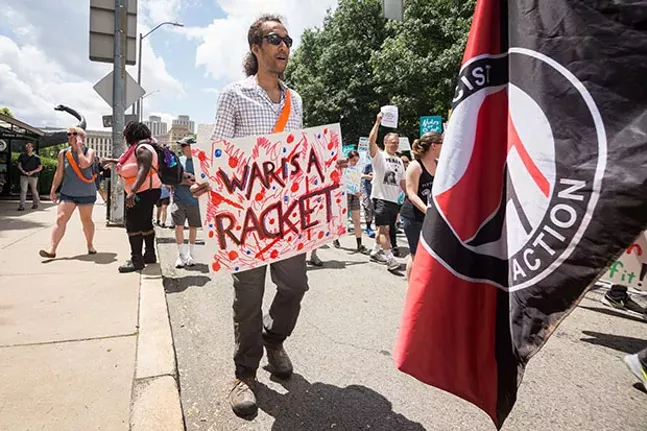 On the weekend preceding this year's Independence Day, Pittsburghers came together to shed light on present and past military actions of the United States.
A crowd of about 80 people gathered on the Schenley Plaza green in Oakland for an anti-war protest at 1 p.m. Sat. July 1. The march was organized by the Thomas Merton Center and Pittsburghers in Solidarity Against War, a recently-founded group working to revive an anti-war movement in the city. A movement that was at its strongest in the in 1990s and early-2000s.
"To get the word out — especially in Pittsburgh – [about] war profiteering and what's really going on in some of these banks and universities," says organizer Casandra Capri. "I was a part of the anti-war movement in the Bush-era and it was really robust for a while. It sort of tapered. People get complacent and look at who's in office and go, 'Things are better — things are O.K. now,' and that's not really the case."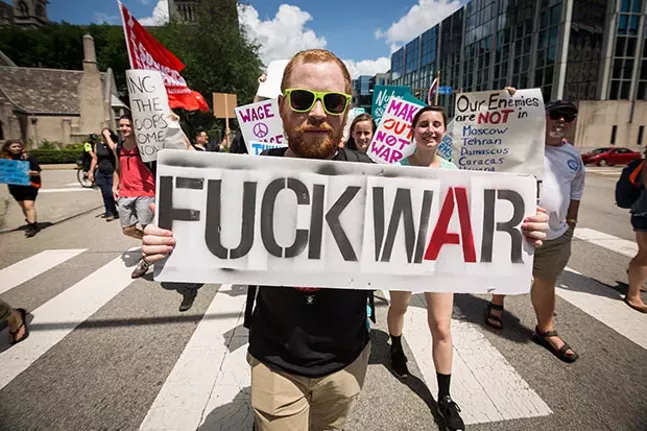 Those involved adorned themselves in fluorescent clothing for the march on Oakland. Performances from Pittsburgh artist and activist Blak Rapp Madusa and the Pittsburgh Raging Grannies as well as speeches from organizers highlighted the pre-march rally.
"When I was coming here, I was thinking about war, and how much people of color have to face war every waking moment of our lives," Madusa said. "Our identity may not be
linear, but it is political. Being black is political; being gay is political; being Muslim is political; being born is political. We see here we have more going on in our backyard — right here in our backyard — that needs to cease and desist.
"All this war that's happening here, that's what's fueling what's going on overseas. We live in a country that is so braggadocios that they can smell the American oil on us when we go overseas."
Protesters, guided by Pittsburgh Police, took to the streets of Oakland. Those marching expressed an opposition to capitalism and corporate involvement in war through signs, chants and speeches made at designated stops. The crowd navigated Oakland with loudspeakers in hand and a drumline in tow.
The first stop was 4615 Forbes Ave., the site of Steel City Reserve Officer's Training Corps, and the first speech was delivered by Marine Corps. Veteran and Industrial Workers of the World member Nick Posey.
"Now, people can say that I volunteered — that it was my choice to enlist," Posey said. "As a 17-year-old with no experience in the wider world, no developed political views and no economic resources, I made that choice. This economic draft of the poor, specifically the young people, plays out across this country every day."
The second stop was at the intersection of South Craig Street and Fifth Ave., on the street corner adjacent to PNC Bank. The third at Software Engineering Institute of CMU on Fifth Avenue, where military technologies are developed.
From the SEI, the crowd marched down Fifth Avenue back to Forbes Avenue and ended their march on the green of the Cathedral of Learning at the University of Pittsburgh. Members of the crowd sat in the grass while more speeches and musical performances were delivered, until the itdissipated.