Pittsburgh's natural-gas lines are old, and many leak. Thanks to a collaboration between the Environmental Defense Fund and Google Earth Outreach, pipeline operators are getting a better idea of where those leaks are and how to target the worst of them — a project whose main goal is fighting climate change.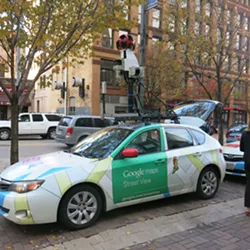 A
four-year-old joint project
of the groups uses specially equipped Google Street View mapping cars to sense methane leaks beneath city streets. The initiative, which began in cities including Chicago, Boston and Dallas, came to Pittsburgh at the request of Peoples Gas, which owns the pipes.
This morning, at a Downtown press event attended by Gov. Tom Wolf, Mayor Bill Peduto and Peoples Gas CEO Morgan O'Brien, EDF and Google released
online maps
showing the location and size of the leaks found so far, mostly in Downtown, the Strip District, Lawrenceville, the Hill District, Oakland and Highland Park. The idea is to help Peoples prioritize places to target as part of its 20-year, $3 billion program to replace the region's aging lines.
"We need to be able to make the infrastructure tight," said one of the speakers, EDF chief scientist Steven Hamburg.
It's not a safety initiative, at
least in the conventional sense: Peoples is already required to monitor its lines for that purpose. Rather, it's an environmental one. Methane is a potent greenhouse gas, responsible for 25 percent of global warming, and leaks are one big component of methane emissions.
"We're recognizing our aging infrastructure is a contributor to the emissions," said Ed Palumbo, Peoples' vice president for reliability.
So far, EDF and Google have outfitted four cars with the sensors, and Pittsburgh is the 11th city for which monitoring date has been released.
The Google-car-mounted sensors are significantly more sensitive than the equipment utility companies typically use to find leaks; they measure the size of a leak, not just its presence. Results have varied widely by city. In Indianapolis, Ind., which has newer gas lines, sensors found only one leak per 200 miles driven, all of them low-level. In Boston, sensors detected about one leak per mile, about 13 percent of them medium- or high-level.
In Pittsburgh, where nearly half the pipes are more than 50 years old (and many are made of more leak-prone material, like cast iron or uncoated steel), the results so far have been more Boston-like: one leak every two miles, about 15 percent of them medium- or high-level.
The sensors' ability to gauge the size of the leaks is crucial. "A few of the leaks cause the majority of the leakage," said EDF's Hamburg. By targeting them, pipeline operators would get the most climate benefit for their maintenance dollar.
EDF statements also indicated that plugging leaks could help utility companies and even ratepayers, by keeping valuable fuel from wafting away. (Allen Robinson, who heads Carnegie Mellon University's mechanical-engineering department and who has worked on the mapping project, says that estimates of how much gas leaks away range from a high of 2.5 percent in an old-pipes city like Boston to the "low tenths" of a percent in a town with newer infrastructure.)
Speakers declined to estimate a specific cost for this pilot project, but added that costs were kept down because the Google mapping cars with sensors were often driving routes they were also photographing. Google Earth Outreach purchased the methane sensors and outfitted existing Street View cars. EDF's work was paid for by donors.
But how much might this initiative help in the fight against climate change?
Methane's contribution to climate change is often ignored because most of society's greenhouse-gas emissions by weight are carbon dioxide, mostly from burning fossil fuels (like natural gas, coal and oil). Methane also breaks down faster in the atmosphere than does carbon dioxide, over a period of decades rather than centuries. However, because methane is much more efficient at trapping heat, it has 84 times the warming power of carbon over a 20-year span.
Indeed, while many tout natural gas as superior to coal climate-wise because it releases only about half as much carbon when burned, many environmental advocates contend that methane leakage from natural-gas wells, pipelines and other points along the supply chain make burning gas
nearly as bad for the climate as burning coal
.
But how much of our methane emissions are due to leakage of the kind the EDF/Google mapping project will address? Because leakage rates vary so much by city, said Hamburg, it's hard to say. But he estimated that in an especially leaky town like Boston, the figure could be as high as 50 percent. In other urban areas, it might be only 10 percent to 15 percent, he said (though he emphasized that the figure does not include leakage from indoor fixtures, like gas boilers).
Moreover, a week after voters selected a climate-change-denier as president, it was heartening to hear the CEO of a fossil-fuel-distribution company tout reducing greenhouse-gas emissions. Peoples' O'Brien said that discussions with EDF — a national group whose director, Fred Krupp, sat between O'Brien and Wolf at today's event — had "enlightened" him about the risks of methane emissions. "Every day when we replace a pipe, we realize the impact that's going to have on the environment," said O'Brien.
Still, two words you didn't hear at the press conference were "drilling" and "fracking." Rather, Wolf went out of his way to praise Shell's enormous planned plastics plant in Beaver County, an enterprise driven by the presence of Pennsylvania's hoard of natural gas, but one that many environmentalists say will
worsen air quality in the region
. Suggesting that a well-regulated drilling sector is compatible with both economic growth and environmental protection, Wolf added, "I want to make sure the industry is robust."
Earlier this year, Wolf did propose ways to reduce methane emissions in the oil-and-gas sector. And speaking here today, the governor also emphasized the importance of moving to renewable energy.
Still, a world where there are natural-gas leaks to plug is a world where there is still natural gas. And even setting aside fracking's well-documented negative effects on air quality, water quality and
human health
, the climate impacts of merely halving carbon emissions as opposed to coal merely gets us to disaster a little slower. The EDF/Google initiative to map methane leaks is entirely sensible. But in the context of the vast problem of climate change (and of getting off fossil fuels entirely), it leaves plenty to do.