When I emailed local artist Joshua Gragg to see if he'd be interested in illustrating Jung Ho Kang for our Pirates Preview cover, he was quick to agree: "I LOVE Kang." I knew he was a huge Pirates fan before I reached out to him; he frequently posts illustrations of Pirates players on his
Twitter account
and his
Instagram
, so what better artist to choose for this week's cover? Plus, editor Charlie Deitch and I have been itching to use him for another portrait since he did such a great job last year on a cover illustration of Pittsburgh Mayor Bill Peduto.
Gragg, 35, lives in Bethel Park with his wife, Jenna, and two kids, Ben and Ellie. In addition to creating art both traditionally and digitally, he also works full time for a weather website doing front-end design and development. "Most of my days are spent building web ads and trying to get people to click on something." When he's not doing that, he's "playing with my kids, messing around in the garage with various projects or playing drums in my basement." And chances are, if the Pirates are on TV, he's also watching.
We caught up with him over email after he was done with this week's cover illustration.
You specialize in celebrity portraits. Any celebrities take notice of their likenesses yet? (I heard through the grapevine that Bill Peduto's mom liked the cover you illustrated of him for us last year.)
I started doing celebrity illustrations about two years ago or so for fun. I kind of stumbled upon a process and developed a style that people responded positively to, so I just kept making them.
I've gotten the occasional "like" from a celebrity on social media and U.S. Senate candidate John Fetterman recently shared an
illustration I did of him
from his Instagram account.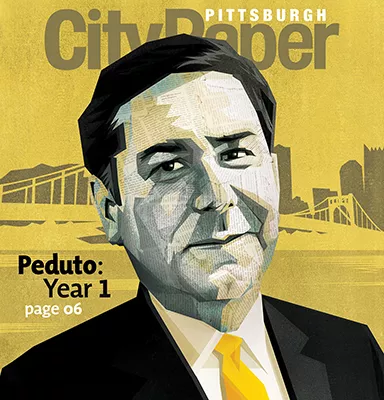 You create your illustrations digitally. Has that always been your preferred medium?
I've worked with computer design and animation ever since I was a teenager, but I really started to refine my skills at Pittsburgh Technical Institute in Oakdale, where I attended as an adult student from 2008-2010. While there, I got much better at Illustrator and Photoshop and gained exposure to various applications and techniques that I've since built upon and use daily.
I can tell you're a big Pirates fan because I've seen you post illustrations of different players like Gerrit Cole and Andrew McCutchen, and you seemed pretty psyched when I told you we wanted to feature Jung Ho Kang. Do you have a favorite player?
I absolutely love the Buccos! I have different favorite players for different reasons. I love Cervelli's fiery passion and Josh Harrison's hustle and swagger. Marte also seems like a dude who knows how to have a good time, and how could you not love Jung Ho Kang? His smile and passion transcend language barriers. Plus, he has a portrait of himself tattooed on his ankle! How rad is that!? That said, they all bring something to the overall team characteristic that makes them so fun to watch and root for.
Give me a prediction for the team this year.
I think we need Kang to bounce back from the injury, and for the starting rotation to hold it together until we can call up one of those young arms from Indy this summer. We also need to do better against the NL Central and avoid the wildcard game all together. We do that and the sky is the limit for this team. Go Bucs!
Any projects coming up you want to share with everyone?
I'm gonna have a booth at the Steel City Con at the Monroeville Convention Center April 15-17 where I'll be selling my prints. You can also see more of my work at
www.popmediaillustrated.com
.