This week brings the final four performances of this
new play
that most critics have been
loving as much as CP's Ted Hoover did
. Audiences seem to have been pleased, too: Playwrights extended the show's run a week to make possible these four extra shows.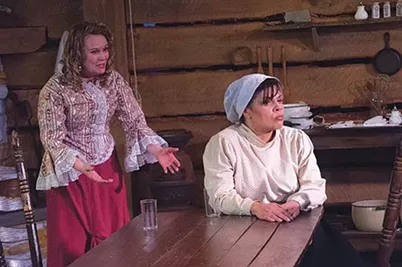 Indeed, I can't add any better advice than this: Go. Mark Clayton Southers, the
troupe
's founder and a seasoned playwright, has outdone himself with this drama inspired by August Strindberg's 1888 classic
Miss Julie
, about an illicit affair between a rich woman and her father's top servant. Sagely, Southers retains the time period but transfers the action to Virginia and makes the servant a freed former African-American slave. All this builds on Strindberg's dynamics while opening up a vast thematic and emotional range.
The production nails just about everything, from scenic designer Tony Ferrieri's raw-wood set to the sharp direction by Monteze Freeland. The acting is top-notch: In Tami Dixon's hands, the impetuous Julie becomes a chilling portrait of white privilege
avant la lettre
, while Kevin Brown is solid as John and Chrystal Bates (one of Pittsburgh theater's best-kept secrets) spectacular as John's woman, the servant Clarissa.
Self-love and self-hate, the complicated politics of desire and, of course, America's tortured history of race –- Southers gets it all down. A favorite moment: The magic that Southers works with John's retelling of the fairy tale of Snow White as a way of professing his love for Clarissa. It's funny, shrewd and deeply moving all at once.
Shows remain at 8 p.m. nightly tomorrow and Friday, and 2 p.m. and 8 p.m. Saturday.
Tickets are $25-30 and are available
here
.
Pittsburgh Playwrights Theatre
is located on the third floor of 937 Liberty Ave., Downtown.