Coming up close on 1 a.m. one night last week, I was delivered a sort of cryptic text from my brother-in-law in Lawrenceville:
"I haven't given this much thought to a band in a long time," he said. "Or, maybe a band hasn't given me this much thought in a long time.
"It's a gift," he said.
Well that's saying something
, I thought, half-asleep.
Wonder who he's talking about
.
A handful of seconds later, he answered that with a screenshot of Papadosio's latest LP,
Extras in a Movie
.
That sounds about right
, I thought, and went to bed smiling.
Most everyone familiar with the burgeoning progressive jam scene has known (and, if you've seen them, felt) that Papadosio — a quintet of seriously killer improvisational musicians — has always defied both genre tags and standard 'jam' expectations, putting out a mind-bending blend of sonic sorcery that homes its focus deep in on the collective consciousness.
Now, the ever-evolving Asheville, N.C.-based band is taking its much-heralded live show experience to a next, new level and expanding its musical palette with
Extras
, their recently-released, expertly-crafted (and self-produced) fourth album.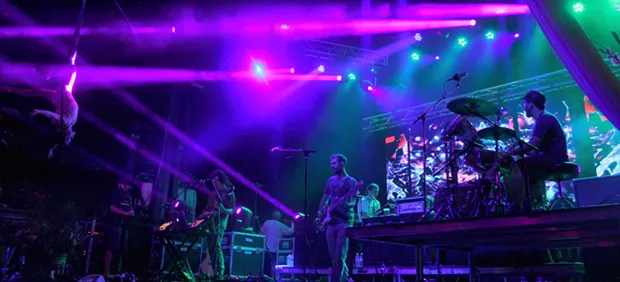 The
Extras
tour, which kicked off in early October following the album's release — and makes its Pittsburgh stop on Saturday, Nov. 21 at Mr. Smalls — is treating Papadosio fans for the first time to selections from the cinematic 16-song cycle, which up to this point hadn't been incorporated into any of the heavy-touring band's many shows at choice festivals and venues around the country.
"For the really, really big fans, it's [like] the feeling around Christmas or a birthday," Papadosio multi-instrumentalist Anthony Thogmartin told me during a quick phone chat from his home studio in Asheville recently.
And, this time around, that's "how we wanted to do it," he said, but "the hardest part was having 16 songs that we couldn't play" before the
Extras
release.
We hear you, man.
Now that
Extras
is out, though, "I think the whole thing," in all its sprawling, ethereal, multi-sensory, psychedelic goodness, "is the best show we've built so far," Thogmartin said. "And, night after night, it gets better. ...It's finally starting to shape into the what we've always wanted."
Having caught them at various festivals around the Northeast in recent years, I've always dug Papadosio. These guys' abilities to deep-groove and soul-move are unmatched. But with
Extras in a Movie
, the band expands its lexicon in a variety of ways, crafting the kind of album that sticks in your head, not in bits and parts, but as a collective whole.
The kind of album that works as a springboard for some truly amazing live music experiences.
The kind of album that has your brother-in-law texting you in the middle of the night in the middle of the week.
Ryan Smith is a northwestern Pennsylvania-based freelance writer and photographer who focuses on arts, culture and other topics throughout the region.
PAPADOSIO with THRIFTWORKS. 8 p.m. Sat., Nov. 21. Mr. Small's Theatre, 400 Lincoln Ave., Millvale. $17-20. 412- 821-4447 or www.mrsmalls.com