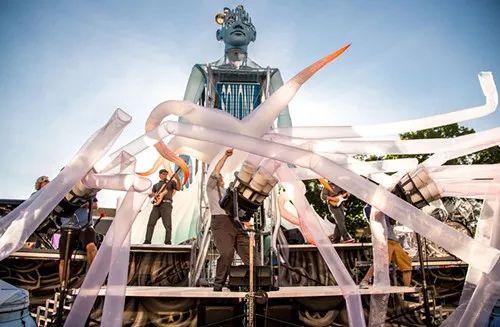 Scene from Squonk's "Pneumatica" performance
Squonk Opera, a performance-art-and-music troupe based in Pittsburgh, is proud to release its ninth album, Pneumatica. Despite the group's long track record, this album is the Opera's first purely instrumental CD in over 20 years, and boasts the addition of electric bagpipes made in Spain. Squonk Opera fuses live music and visual art in fascinating, strange, and engaging performances. The artists, nicknamed the "Squonkers," have created eleven original performances and toured extensively all over the globe. The only thing more fun than attempting to describe Squonk Opera is to see it live — and fortunately for us the troupe is coming back to Pittsburgh.
The group will be releasing its CD in conjunction with performances on Sat., Oct. 11, in Oakland's Schenley Plaza at 12, 2, and 3:45 p.m. as part of the Oakland Forever celebration.