Yep, Andy Warhol, perhaps not surprisingly, experimented with making art on a home computer, way back in 1985. But most of the images were unavailable until now.
The Carnegie Museum of Art announced today that Warhol's saved files from an Amiga floppy disk have been extracted by unique teaming of the museum's Hillman Photography Initiative and minds from Carnegie Mellon, after a prod from a famed contemporary artist. As this post goes live, this is already international news, with coverage from Time, the BBC and others.
Here's one of the images, a Campbell's Soup can, naturally: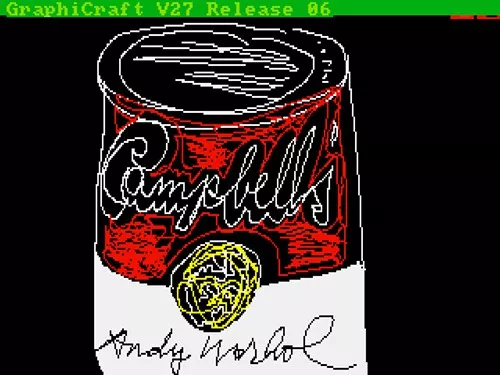 ©The Andy Warhol Foundation for the Visuals Arts, Inc., courtesy of The Andy Warhol Museum
"Campbell's," by Andy Warhol
Feel any better about
your
first computer art?
The project's instigator was Cory Arcangel, the New York-based artist known for his hacks of video product like Super Mario Brothers. Arcangel had seen a YouTube clip, dating from 1985, of Warhol promoting the release of the Amiga 1000.
Starting in 2011, Arcangel — whose exhibit Masters the Carnegie Museum of Art hosted in 2012 — hit up folks including CMA curator Tina Kukielski and Golan Levin, who head CMU's Frank-Ratchye STUDIO for Creative Inquiry. According to a CMA press release, Levin connected Arcangel to the CMU Computer Club, a student group that collects obsolete computer hardware and develops retro-computer software.
The club would have known all about stuff like this

which is the Commodore Amiga equipment used by Warhol in 1985 and 1986, according to The Andy Warhol Museum.
Warhol museum chief archivist Matt Wrbican — himself an old Amiga user, who had seen the disks in Warhol's former NYC studio, way back in 1991 — helped locate the disks (which have of course been obsolete for decades). Others who assisted included Warhol museum director Eric Shiner.
The disks themselves — 41 in all — were read in March 2013, and more than 20 images were found. A video crew from the CMA followed the whole process; the result is one episode of a five-part documentary series, The Invisible Photograph, about the photographic images that are hidden, inaccessible or hard to access.
The episode premieres at the CMA on May 10, and on May 12 will be available online here.
The images came to be, according to the Carnegie, after Warhol was commissioned by Commodore International to demonstrate the computer's graphic-arts potential. Other images include variations on Warhol's well-known images of a banana, Marilyn Monroe, Venus and more. The one known artwork to emerge from Warhol's Amiga sessions was a portrait of Debbie Harry.
In the press release, Wrbican guesses that Warhol, whose work up until the Amiga was done primarily by hand, now suddenly had to "grappl[e] with the bizarre new sensation of a mouse in his palm held several inches from the screen."
"I am both a serious Warhol fanatic and life-long computer nerd, so to have the opportunity to help uncover this history, i.e., dig through Warhol's dusty disks, was a dream come true on both counts," says Arcangel in a statement from the CMA. "What's amazing is that by looking at these images, we can see how quickly Warhol seemed to intuit the essence of what it meant to express oneself, in what then was a brand-new medium — the digital."