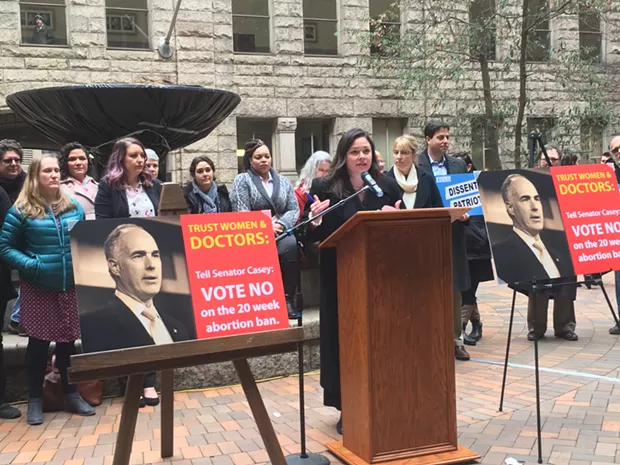 On Jan. 26, news broke that Pennsylvania Sen. Bob Casey (D-Scranton) planned to vote in favor of a federal bill that would ban abortions after 20 weeks. Earlier today, several groups organized at the Allegheny County Courthouse in Downtown Pittsburgh to call on Casey to change his mind.
In an effort between organizers of activism groups Tuesdays With Toomey, New Voices Pittsburgh and the Greater Pittsburgh Chapter of the American Civil Liberties Union of Pennsylvania, the press conference called for Sen. Casey to "trust women and their doctors" by voting no on the federal Pain-Capable Unborn Child Protection Act that would
ban abortions after 20 weeks
.
Diane Ryan Katz, vice president for programs and public education with the Greater Pittsburgh Chapter of the ACLU, said that while the United States is a nation governed by laws, bills pertaining to women's rights to abortion have no place.
"Anybody should be able to access abortion care whether at two weeks or 22 weeks, because the human body and the human experience does not follow these arbitrary legal timelines," Katz said. "Congress, including Sen. Casey and the White House, have no place meddling in the confidential relationship we have with our trusted medical professionals."
The Pain-Capable Unborn Child Protection Act is
co-sponsored
by 47 Republicans including Pa. Sen. Pat Toomey (R-Lehigh). The bill allows for fines and violations that could land a physician in prison for up to five years. The bill provides exceptions in pregnancies resulting from incest, rape or medical necessity. Casey, who has campaigned as a "pro-life Democrat," voted for the bill back in 2015 when it initially failed.
Jessica Tarleton, an OB-GYN, shared her story from the front lines. She explained that at 20 weeks, a mother will be able to find out the gender of her baby, but can also discover that her child has major birth defects. Tarleton said the most common phrase she hears is, "I never thought I would in this position."
"If you think you know how and why women make decisions to end their pregnancies after the 20th week, unless you've been there, you don't," Tarleton said. "Senator Casey, I'm asking you to trust women to know how to best take care of their families."
While the bill is not expected to pass, Sara Roberts, executive director of Allegheny Reproductive Health Clinic, told the crowd that by voting for a 20-week abortion ban, Casey is playing into politics.
"Why is Bob Casey voting for a 20-week abortion ban," Roberts asked. "It can't be for our health, because there are no legitimate medical groups that support the supposed science behind a 20-week abortion ban, including the American Medical Association. All that I can conclude is that this is a political move ... but I am not comfortable with my health, the health of my family and the health of all of your families [being used] as a political bargaining chip."