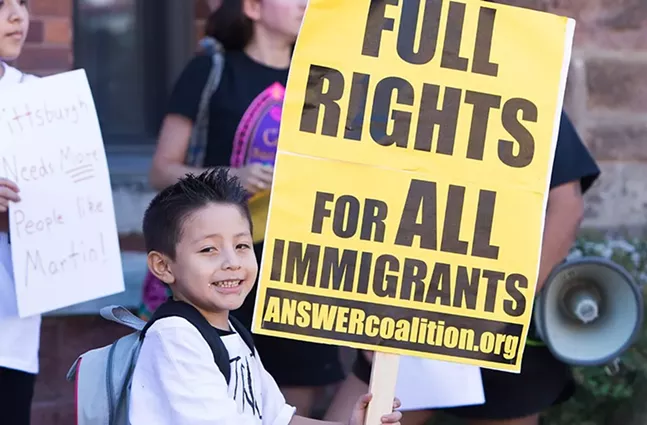 Thousands of migrant families are currently being intentionally separated at the U.S.-Mexico border. The Trump administration has indicated this policy was created to deter immigrants trying to enter the U.S. illegally. (Data
shows
the opposite has occurred).
The White House has also attempted to claim the policy doesn't exist, and President Trump even tweeted that Democrats, who are in the minority in U.S. Congress, are to blame for these policies. The policy was created by the Trump administration last year.
And while Trump could easily end the policy himself, Congress could also pass a law that would force Trump to veto legislation that would end the policy. With that in mind, City Paper wanted run down where Southwestern Pennsylvania's congressional delegation stood on the issue.
Rep. Mike Doyle (D-Forest Hills)
Doyle is opposed to the family-separating policy and called it "abhorrent" in a statement, adding that families with children should be treated better.
"I strongly oppose the Trump Administration's policy of separating children from their parents," said Doyle. "I'm outraged that the Administration would adopt this policy, and I'm angry that the Administration is trying to mislead the public about why so many children are being separated from their parents now. It's Trump's policy – and his policy alone – that's separating children from their parents."
Doyle is a cosponsor on House Res. 927, which condemns the family-separation policy and calls for keeping immigrant and asylum-seeking families together. The resolution has about 150 cosponsors, all of whom are Democrats. Doyle spokesperson Matt Dinkel also says Doyle is cosponsoring the Keep Families Together Act in the U.S. House, which will be introduced on June 19. A Senate version of this bill was introduced earlier this month by Sen. Diane Feinstein of California.
Rep. Conor Lamb (D-Mount Lebanon)
Lamb also condemns the family-separation policy. He says it's "cruel, and it doesn't make us any safer."
"We can enforce the law without breaking up families and forcing kids to live in detention camps and tent cities," said Lamb in a statement. "We are a country that respects and abides by the rule of law, and we are a country that treats human beings with dignity and compassion."
Lamb has not cosponsored H.R. 927. However, he is calling on Congress to take "bipartisan action" to end the policy.
Rep. Keith Rothfus (R-Sewickley)
Rothfus has been silent on Trump's family-separation policy. His office didn't respond to request for comment on this story.
However, he has been supportive of Trump's efforts to construct a wall along U.S.-Mexico border and supported the president's decision to rescind the Deferred Action for Childhood Arrivals (DACA), claiming that President Barack Obama overstepped his authority when creating DACA.
Sen. Bob Casey (D-Scranton)
Casey has been extremely
vocal
in his opposition for Trump's family-separation policy. He has publicly called out Trump, secretary of Homeland Security Kirstjen Nielsen, Speaker of the House Paul Ryan and Senate Majority Leader Mitch McConnell and asked them to end the policy.
"[Trump] and [Nielsen] are not telling you the truth," tweeted Casey in response to news of the Trump administration claiming the policy is not their doing. "There is no law requiring the Administration to rip migrant children away from their parents; it is a morally abhorrent policy choice they make every day."
Casey cosponsored the Keep Families Together Act, a bill in the U.S. Senate that would end broad-based family-separation tactics at the border. All 47 Democratic senators, and two independent senators, have cosponsored the bill, meaning it only needs support of two Republicans in order to clear the senate.
Sen. Pat Toomey (R-Lehigh)
Toomey said in an interview on the
Hugh Hewitt radio show
he doesn't think Trump should fully reverse the policy, but added "it's just not the right thing to be doing." But, he also believes some of the reports about immigrants are exaggerated.
"First, I think the instance of the, you know, the heart-wrenching separation of a small child from the mother is, has been, the frequency's been exaggerated significantly," said Toomey.
Toomey didn't offer many specifics on how he would like the family-separation policy to be altered. He admitted to some naiveté on the subject, but did repeatedly endorse the use and growth of family detention centers.
"But at the end of the day, if we had family detention centers, and we had the law that permitted the use of family detention centers, then this problem would be enormously diminished," said Toomey.
Pennsylvania is home to a family-detention center in Berks County.
Steve Kelly, a spokesperson for Toomey, told the Philly Voice that Toomey will "look forward" to reviewing the Keep Families Together Act, as well as some other Republican-sponsored legislation.