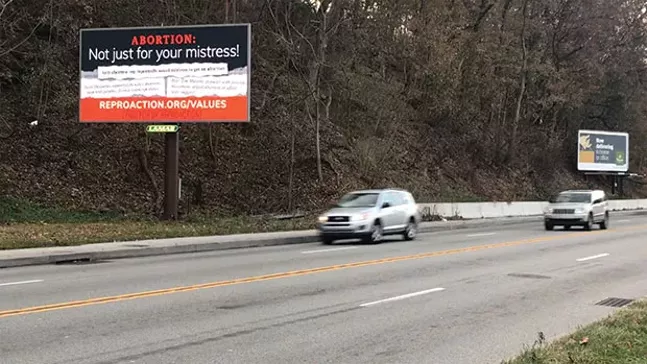 In early October, then-U.S. Rep. Tim Murphy (R-Upper St. Clair) made national news when it was revealed he had pressured his mistress to have an abortion (it turned out she wasn't pregnant). The very day the story broke, Murphy voted in favor a national ban on abortions after 20 weeks. Widespread outrage against the purportedly pro-life Republican was swift, and later that month,he resigned from office.
But national reproductive-rights organization Reproaction didn't want outrage around the scandal to dissipate. That's why during the month of November it has paid for advertising on three digital billboards near Murphy's former Allegheny County office, his home and his church. "ABORTION: Not just for your mistress!" the billboards read.
"We felt this was an important opportunity not just to highlight the hypocrisy, but the moral bankruptcy of a pro-life movement that claims to care about women and babies, and yet has a totally separate agenda," says Erin Matson, co-founder and co-director of Reproaction. "They want abortion access for themselves, particularly when it helps cover up things in their political career, but they are working to block access to health care and prenatal care that would help pregnant women and infants."
Reproaction's statement is bold, but the reality is that every year, thousands of women are prevented from accessing abortion services for a variety of reasons, including government-imposed restrictions and limited resources. Eleven states restrict coverage of abortion in private insurance plans, and 27 states require women to wait a specified period of time before the procedure is performed.
"At Reproaction, we celebrate abortion access as a positive thing. When someone needs an abortion, and they're able to quickly and easily access that, that's something we should be proud of as a nation," says Matson. "Abortion access is critical to equality and justice for all people and especially women. There is simply no such thing as equality and justice, if people can't control whether and when and how they can become pregnant."
Pittsburgh has seen some positive movement on the issue. Earlier this month, a federal judge upheld a city ordinance establishing a 15-foot buffer zone around abortion clinics to keep protesters at bay, and just last week, Pittsburgh City Council passed a resolution in support of state and federal funding for abortion access.
But there are still many hurdles. In December, activists believe, Pennsylvania legislators are poised to revisit a piece of legislation that would ban abortions after 20 weeks, a bill similar to the one Murphy voted for at the federal level.
"I think we're seeing a resurgence in anti-abortion sentiment, in part because we have a federal administration that doesn't have regard for a women's right to choose, let alone women's access to birth control," says Jessica Semler, public-affairs director of Planned Parenthood of Western Pennsylvania. "We have a president who said during his campaign that there has to be some type of punishment for women who have abortions. In Pennsylvania, we have a 20-week abortion-ban bill that keeps coming back even though the public doesn't want it.
"It really feels like opponents [of] women's rights and access are feeling galvanized right now. It's a scary time."
In February 2016, Pittsburgh resident Kelsey Williams visited her doctor's office for a standard 20-week ultrasound. She was pregnant with her second child and up until then had been having a healthy pregnancy.

"I'd already had one pregnancy, so I sort of knew what to expect," says Williams. "But it was taking a while, and at the end, the ultrasound technician told us the baby had clubbed feet.
"It turned out that not only did the baby have clubbed feet and legs, but clubbed hands, wrists and arms, which was indicative of the fact that the baby wasn't moving at all. Seeing those deformities was an indicator that there was a systemic neurological or muscular issue going on."
Williams was 20 weeks and five days pregnant. Pennsylvania's current law allows for abortions up to 23 weeks and six days. The full genetic testing for fetal abnormalities takes two weeks. And Pennsylvania has a mandatory 24-hour waiting period between consenting and the procedure. So even with the 24-week window, Williams was under pressure to make a decision.
"I received absolutely the best care and very objective and straightforward options," Williams says. "I could choose right there to schedule a termination. I could continue the pregnancy, and they would support me the best they could, but they were very clear there were no cures for what they were seeing. Or I could have testing, wait for the results of the testing, and make my decision after that."
Ultimately, Williams decided to have the genetic testing done, but to move forward with terminating the pregnancy.
"They told us in our case, while we might find an underlying cause for what we were seeing, there was nothing that could be discovered through the genetic testing that could change the prognosis," Williams says. "For us, even though it was an incredibly difficult decision to make, that felt more clear-cut. I didn't want to bring a baby into this world to know only pain and suffering, when I had the choice to end the pregnancy in what felt like the most humane way."
Williams had to wait one week for the procedure. She says it was the hardest week of her life. The procedure was done over two days on Feb. 24 and 25. Afterward, she took a few weeks off work to recover.
"I was very lucky," Williams says. "Everyone was incredibly supportive and gave me space and support. Not a single person I talked to questioned my decision. Amazing. It pulled me through."
But then in the first week of April, Williams was made aware that a ban on abortions after 20 weeks had been proposed in the Pennsylvania state legislature.
"It hit me like a ton of bricks," Williams says. "My decision was being publicly debated about by people with no medical background and who have never personally experienced this, for what seemed like political gain."