In years previous, this past weekend would have marked the final performances of
Pittsburgh Playwrights Theatre Co.
's run of Eugene Lee's 1991 drama
East Texas Hot Links
. Except for its popular stagings of plays by Pulitzer-winning native son August Wilson, all of the small company's runs have been three weeks long — usually about a dozen performances of each.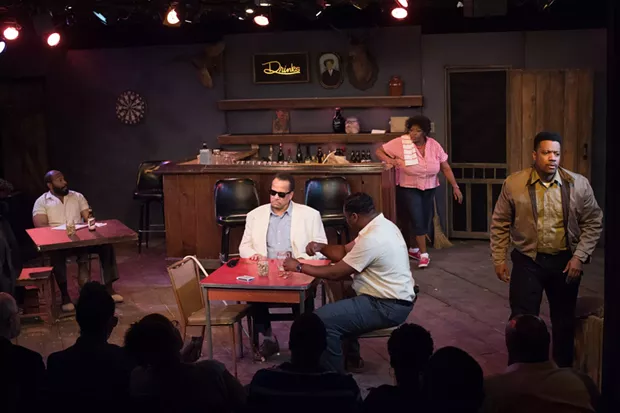 But inspired by Chicago's prolific theater scene, Playwrights founder and artistic director Mark Clayton Southers is literally doubling down: Instead of being wrapped,
East Texas
is now only halfway through a six-week run, a duration Southers intends to become his company's new standard.
Southers says it was years ago, when his own first play,
When the Water Runs Clear
, was staged in Chicago that he learned of six-week theatrical runs.
Such a duration is common in Chicago, a city of 2.7 million with a long history of support for theater; it's rare in Pittsburgh, where even big companies that own their own venues, like Pittsburgh Public Theater and City Theatre, typically schedule shows to run for a month. But what stuck with Southers about that Chicago staging of
When the Water ...
is that most of the performances sold out.
For his own Downtown-based company, Southers sees several reasons to adopt the strategy. One, it might help build audience by making the show more accessible to ticket-buyers, who will now have 24 performances to choose from.
Two, it'll give steadier work to actors, particularly the African-American actors who are often featured in Playwrights' shows but don't necessarily have lots of other opportunities around town.
Three, it's a good season to try it: Productions of
East Texas
have drawn well in other cities, and Playwrights' current season includes two other name shows — Matt Pelfrey's adaptation of
In the Heat of the Night
and another August Wilson play (
Joe Turner's Come and Gone
is scheduled) — so the audience is more likely to turn out.
Fourth, says Southers, "It was just something I wanted to do."
Southers says that
East Texas
has been drawing well, at least by the standards of a production with a limit of 70 ticket-holders a show; some tickets are already sold for shows during the final three weeks.
The six-week plan was accompanied by another scheduling change: Southers believes dropping the company's traditional Thursday-night shows in favor of an added Saturday matinee might also help attendance.
And while doubling the run costs more, the famously resourceful Southers says he's coping: He built the fabulous
East Texas
set himself, to save money, and the show's cast includes only one Equity actor. He hopes increased ticket sales will take care of the rest, and some signs are good: Subscriptions to Playwrights' full season, for instance, have doubled since last year, to 195.
All that means is that you still have about a dozen more chances to see
East Texas Hot Links
, a sharply observed, rather August Wilson-esque drama about a fateful night at a small-town roadhouse in the 1950s. Here's Michelle Pilecki's
review
for
CP
.
The show runs through Nov. 5.
Tickets for
East Texas
are $27.50-35 and are available
here
.
Playwrights is located at 937 Liberty Ave., third floor, Downtown.