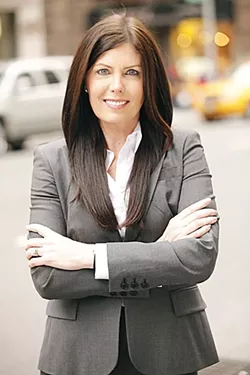 After two years of
scandal and speculation
, it looks like embattled Pennsylvania Attorney General Kathleen Kane's criminal trial will begin next week.
Today, the Pennsylvania Supreme Court denied Kane's request to have the charges against her dismissed. Her appeal claimed the grand jury that investigated her violated her constitutional rights.
In August 2015, Kane was charged with perjury, false swearing, and abuse of office for allegedly leaking details of an investigation to a newspaper. A month later, the state Supreme Court suspended her law license.
Trouble began for Pennsylvania's first female attorney general in 2014 after she released a series of pornographic, racist and misogynistic emails found on a state email server. Amidst the scandal, state Supreme Court Justices Seamus McCaffery and Michael Eakin resigned.
Kane has claimed the charges against her are a result of the email scandal. But last week, Montgomery County Judge Wendy Demchick-Alloy ruled that defense could not be used in court.
Kane was up for re-election in the upcoming November general, but in February
she announced
she wouldn't be seeking another term.
Jury selection in the Kane trial is set to begin Monday in Montgomery County Court.