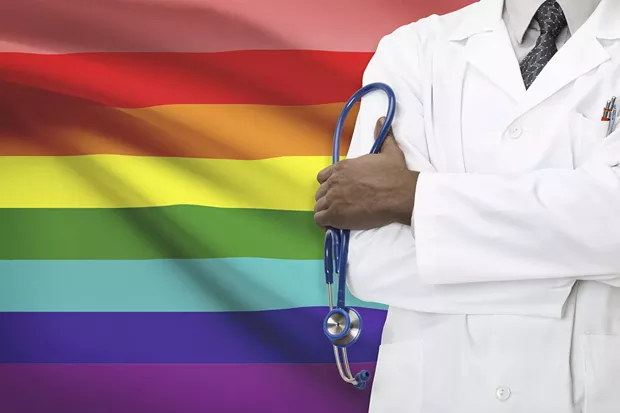 Last week,
City Paper
wrote about the issues surrounding
LGBT residents in the Pittsburgh area receiving adequate health care
. Jason Herring, of the Pittsburgh AIDS Task Force, said stigmas still exist that cause gay, trans and bisexual patients to feel uncomfortable asking doctors for the treatment they need, and that doctors also need educated on how to properly respond when LGBT-specific request are made.
Health-care companies Highmark and Allegheny Health Network are hosting an event that hopes to address these issues. Highmark has hosted "Meet Dr. Right" events before, where potential patients can meet and talk with doctors in a public setting, but internal-medicine specialist Brian Lamb of AHN says this is the first event geared toward a specific community.
"It's notorious that the LGBT community doesn't always get the care that they deserve," says Lamb. "Health care should not just be found in specific clinics. They deserve a family doctor that knows them."
On June 14, from 5:30-7:30 p.m., LGBT-friendly doctors will be accepting new patients at the Highmark auditorium on 501 Penn Ave. (second floor), Downtown. The event will also feature information on health, dental and vision insurance. Local LGBT organizations will be on hand, and attendees can make appointments with physicians on the spot.
"Our goal with this event is to let everyone know that there are resources and options available for health care right here in Pittsburgh for LGBT individuals," said Rhonda Moore Johnson, senior medical director of Health Equity and Quality Services for Highmark, in a press release. "Bringing that information together in one place is a great opportunity for LGBT individuals and their friends and family to learn more about living a healthier life."
People interested in attending the event can register in advance at
www.meet-dr-right.com
.
Also, the upcoming Ball on the Bridge will be highlighting the need to improve health-care access for the LGBT community. The ball will be held on the Andy Warhol Bridge, from 8 p.m. to midnight, Sat., June 18. Central Outreach Wellness Center will have its mobile medical center onsite and will be providing free check-ups.