Longtime
City Paper
readers might have noticed something a little familiar looking about this week's cover. That's because this week marks the second time we hired this week's cover artist Frank Harris to do a parody of Grant Wood's famous "American Gothic" painting. The first was for our Election Guide back in October 2012 when Frank illustrated our "American Nightmare," featuring a caricature of Republican presidential candidate Mitt "Binders Full of Women" Romney next to a woman with her mouth duct-taped shut.
We're not above making a good idea work twice. It was a great cover illustration in 2012, and with the Pens in the Stanley Cup playoffs right as the Three Rivers Arts Festival comes to town, what better matchup than to combine hockey with art? Editor Charlie Deitch and I played around with several other ideas before deciding on "American Gothic" — Iceburgh as the Mona Lisa, for one. But in the end, Iceburgh and Sidney Crosby posed as "American Gothic" just felt right. We couldn't be happier that Frank was on board for being the same artist for both.
We caught up with Frank over email after he completed this week's illustration. Frank lives in Mount Lebanon with his "lovely and incredible" girlfriend, Dr. Teresa Lacaria; his two "super" kids, Max and Sam; and a pretty cat named Daisy. Frank also does children's illustrations and conceptual images, in addition to his editorial work. Here, he shares his love of Pittsburgh and fills us in on his biggest art critic.
This isn't the first time you did a parody for us of "American Gothic." We promise we won't put you through this again, but say that we did — do you have any two people you think would be fun to throw in the scene?
I think I'd put Donald Trump and Hillary Clinton together. I think I'd put Donald in the dress and Hillary with the pitchfork.
You studied fine arts at Carnegie Mellon University. Did you always want to be an artist?
Yeah, Il always wanted to be an artist. I needed better guidance counselors growing up.
What's your workspace like?
I mostly work digitally on a drawing pad, so it's nice that I can work anywhere when I'm doing illustrations. But when I do commissions, or my own personal work, I end up painting in my dining room. It's not very bohemian, but I have two kids to raise.
The arts fest returns to Pittsburgh this weekend. As a Pittsburgh artist, what do you hope out-of-towners learn about our local art scene while they're in town?
Pittsburgh has changed so much. Its restaurants, galleries and music scene are so good now. It's a great city and has so much to offer. I'm starting to paint Pittsburgh all the time into my paintings.
Your "American Gothic" parodies aren't your only take on famous paintings. I saw you have a really fun Pittsburgh version of Van Gogh's "Starry Night" in your portfolio. What inspired that piece?
An art consultant I work with asked me to do some Pittsburgh-oriented pieces, and I wanted to do something that was a little out of the ordinary. So I thought, "What would Vincent van Gogh paint if he painted Pittsburgh?" I put it on Facebook not really thinking much about it, and I got about 1,500 shares in a few days. I sold a lot of prints.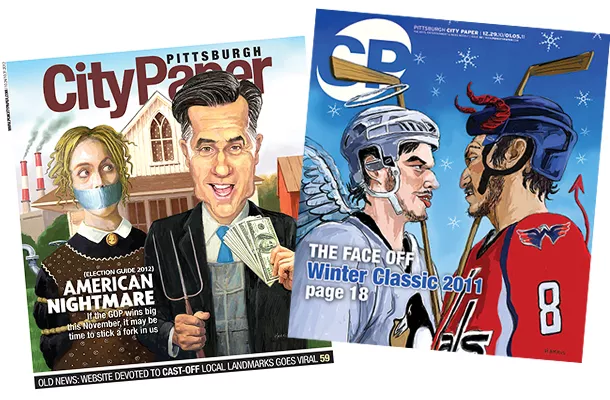 This week also isn't the first time we've asked you to illustrate Sidney Crosby. I'm a huge fan of your caricatures and in late 2010, your cover illustration for CP had Crosby facing the Washington Capitals' Alexander Ovechkin for a story on the Winter Classic coming to Pittsburgh. Are you a hockey fan?
I hate to admit it, but I'm only a hockey fan when they get into the playoffs. I'm a really big Steelers fan and Pirates fan. Love going to see the Pirates at the stadium. It's a great night out.
Got a Stanley Cup prediction?
The Penguins all the way!
In addition to editorial work, you also do a lot of illustrations for children's publications. You're great at both! Which is more challenging?
I don't really have a preference. I like that someone wants me to illustrate for them.
Have your kids ever requested any Frank Harris original paintings for their room?
No, but my son Sam is a good critic. He looks at what I'm working on, and in his best 13-year-old teenage style, says something like, "Dad, that sucks," or "It's OK" or "Not bad." I usually listen to what he has to say about it.

What advice would you give a young artist hoping to make art a full-time career?
Become digitally savvy, learn a lot of software. I think computers are amazing.
Got any big projects coming up we can look forward to?
Hoping to put together a show of paintings soon.
Where can our readers find you online?
Illustration:
www.frankharris.com
Prints:
http://frank-harris.pixels.com