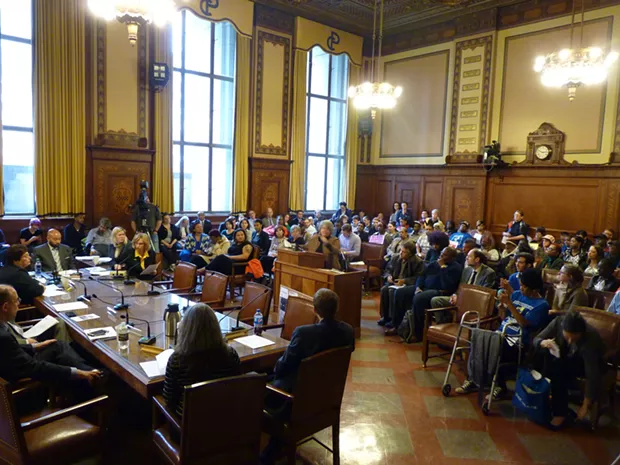 According to Pittsburgh's Affordable Housing Task Force, the city would need an annual $10 million investment to seriously address the city's affordable housing crisis.
"One of the thing's that is critical to any kind of affordable housing effort in the city is a dedicated source of funds to pay for it," said task force co-chair Raymond Gastil. "It's great to talk about things, but there's a severe shortage of somewhere between 19- and 21-thousand units. You need money to address that."
On Thursday Pittsburgh City Council received an update on the work of the task force at a special meeting in Council Chambers. The group has met more than 30 times since it was created last year.
In addition to establishing a $10 million Housing Trust Fund through the Urban Redevelopment Authority of Pittsburgh, the task force is recommending programs to support existing affordable housing in the city. The task force is also recommending programs to monitor affordable housing that is set to return to market in an effort to preserve the affordability of the units.
Another recommendation calls for incentive-based inclusionary housing requirements for all developments of 25 units or more receiving public subsidies. This would include housing for households at 50 percent area median income for rental units, and 80 percent AMI for home ownership.
A final recommendation would seek to expand utilization of the Low Income Housing Tax Credit at the four percent level, which could support new affordable housing construction, as well as rehabilitation of existing housing.
"I look forward to taking the task force recommendations and seeing how we can change it from recommendations to action," said Councilor Ricky Burgess, District 9. "At the end of the day we're going to have to provide new housing whether it's new buildings or rehabbed buildings."
Members of council were overwhelmingly supportive of the recommendations. However, Council President Bruce Kraus expressed frustration with the process of securing federal funds that could be used to rehab existing affordable units.
And Councilor Darlene Harris, District 1, raised concerns about using incentives like zoning changes to entice affordable housing developments because any change could interfere with the homes of residents already living in the area.