Pittsburgh's affordable housing policy recommendations are finally here and the community-at-large came out in force to share their thoughts. In a nutshell, the city's Affordable Housing Task Force recommends the creation of an
affordable housing trust fund
of $10 million annually, supporting models like
Community Land Trusts
, addressing vacant properties, preserving naturally occurring affordable housing, and utilizing incentive-based inclusionary zoning.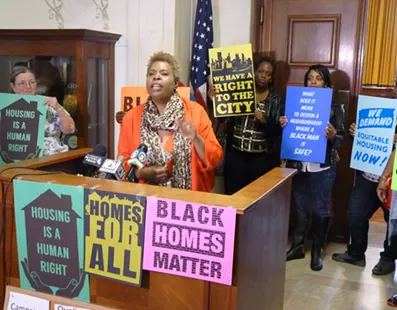 At a press conference held 30 minutes before the task force meeting, more than 60 people filled the hallway to Pittsburgh City Council chambers, and those who spoke were most upset by the incentive-based inclusionary zoning suggestion.
This means if a developer receives public subsidy or city assistance like a zoning variance, only then would they be required to provide a percentage of affordable housing. However, the city has yet to specify what public subsidies or city assistance would require developers to include affordable units nor have they specified what percentages would be required.
This vagueness has caused some advocates to fear not enough will be done to fix the city's affordable housing issues.
Helen Gerhardt of Homes For All PGH, a coalition of advocacy groups focused on affordable housing, said she commends the task force on specifying the $10 million a year goal and using Community Land trusts as a model. However, she added that all new developments should be mandated to include affordable housing, not just projects that need city assistance. She says that only 17 percent of inclusionary zoning policies in the country are incentive-based.
"We currently face a deficit of 21,000 [affordable] units. This is a housing crisis," said Gerhardt.
Paul O'Hanlon, a housing and disability-rights lawyer, also commended the task force and Mayor Bill Peduto, but said this should have happened years ago. He also agreed that inclusionary zoning should be mandatory and not incentive-based.
"Incentives tend to not benefit poor people. They tend to benefit developers," said O'Hanlon.
He also believes that requiring only developments of 25 or more units to include affordable units was too weak a policy. "If five units are going up with subsidies, why shouldn't one be affordable?" O'Hanlon was also concerned that the recommendations only mention providing housing for residents making at or below 50 percent area median income, when he said that the real need is at or below 30 percent area median income.
Ronell Guy, executive director of the Northside Coalition for Fair Housing, spoke passionately to the crowd and questioned what work the task force had actually accomplished. "They did not come up with one new suggestion. We knew to do this 20 years ago," Guy said. "There is no reason to continue to study. Just get it done."
To Guy's point, it appears many of the task force suggestions have already been accomplished on a smaller scale throughout the city. Peduto has already created a housing trust fund for East Liberty; nonprofit developer Lawrenceville Corporation started its own Community Land Trust in January, and incentive-based inclusionary zoning was forged through the Penn Plaza agreement concerning the
Mellon Orchard development
. (The owners were granted a zoning change, and the city received requirements for 20 percent affordability at the future development).
The Affordable Housing Task Force finalized proposals are due May 27. The next meeting date has not been set.