In discussions of affordable housing, the conversation almost always centers on creating affordable rental units. The Lawrenceville Corp., that neighborhood's nonprofit developer, is thinking a little differently.
The group is starting a community land trust (CLT) with the intention of selling homes to low-income residents. Lawrenceville, which has been featured in the New York Times and dubbed a "top hipster neighborhood," has experienced exploding home prices over the past few years. Ed Nusser, Lawrenceville Corp.'s land-use coordinator, says that most of the houses in the neighborhood are selling for between $280,000 and $550,000. (The average home price in Pittsburgh is around $100,000, according to real-estate web site zillow.com.)
But even though Lawrenceville might have the hottest housing market in the city, Lawrenceville Corp. director Matt Galluzzo says plenty of low-income residents still live in the neighborhood. More than 800 Lawrenceville households qualify for food stamps.
"Behind that veneer is still a neighborhood with considerable need," says Galluzzo. "We want to work to ensure security and stability in the neighborhood, and hopefully the land trust will address that."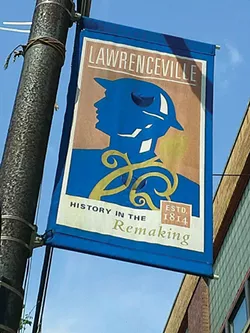 The corporation has purchased one property, and is set to close on three others. The CLT's plan is to build or rehab seven homes in Upper Lawrenceville. To maintain permanent affordability for the properties, Lawrenceville Corp. will retain ownership of the land, but will sell the homes to residents who qualify by earning 80 percent or less of the area's average income — about $55,000 for a family of four.
Nusser says the land trust makes home ownership affordable for folks from a different income bracket than those currently snatching up properties. The neighborhood is experiencing a trend where many homes are being bought as investments through limited liability corporations (LLCs). According to the Wall Street Journal, LLC home-buyers are usually wealthy and use LLCs to remain anonymous and to receive significant tax breaks; they rarely live in the homes. In 2012, Hawaii had the highest percentage of LLC-purchased homes of any state, at 11 percent. Galluzzo says that over the past three years in Lawrenceville, LLC-purchased homes have made up 27 percent of the market.
CLTs have built-in protection against LLCs and other high bidders. In CLTs, residents own the homes but not the land. That, says Nusser, allows them to grow a limited amount of equity, but leaves them unable to sell the property to the highest bidder. Instead, Lawrenceville Corp. will manage the sale of the property to another low-income buyer. Nusser says that land-trust homeowners can make alterations to their properties and will otherwise have all the freedoms of a typical homeowner.
Tim McNulty, spokesperson for Mayor Bill Peduto, says Lawrenceville's CLT is an "important test run" for programs that could help low-income residents citywide stay in their long-time neighborhoods.
"While we're trying to solve the affordable-housing issues of today — both for homeowners and renters — we're also looking at finding ways [to preserve] affordability in the long term, and the land trust is potentially a model for that," wrote McNulty in an email to City Paper.
Lauren Byrne, director of Lawrenceville United, another nonprofit, reiterates that while Lawrenceville's boom is something to marvel at, it has come at a cost. She says that "hundreds of families" are being forced out of Lawrenceville and moving to less expensive neighborhoods like Millvale, Etna and Penn Hills. She also says that many of the young professionals who have helped revitalize Lawrenceville — and who work in public service or the area's growing restaurant scene — are themselves starting to be pushed out.
Bryne says that although the land trust is a good tool to start addressing Lawrenceville's affordable-housing crisis, it will not solve all the problems. Nusser agrees. He says that while Lawrenceville Corp. recently entered into negotiations on city-owned property in Doughboy Square with the intention to build around 50 affordable units, 800 apartment units remain in the pipeline for the neighborhood, and none of them is affordable.
But Byrne is starting to see a change in some home sellers' attitudes that offers some hope.
"We have gotten calls from people that want to make sure the next homebuyer is someone who wants stay here," says Bryne. "Some are even asking if they can sell their home to the land trust … which is refreshing."