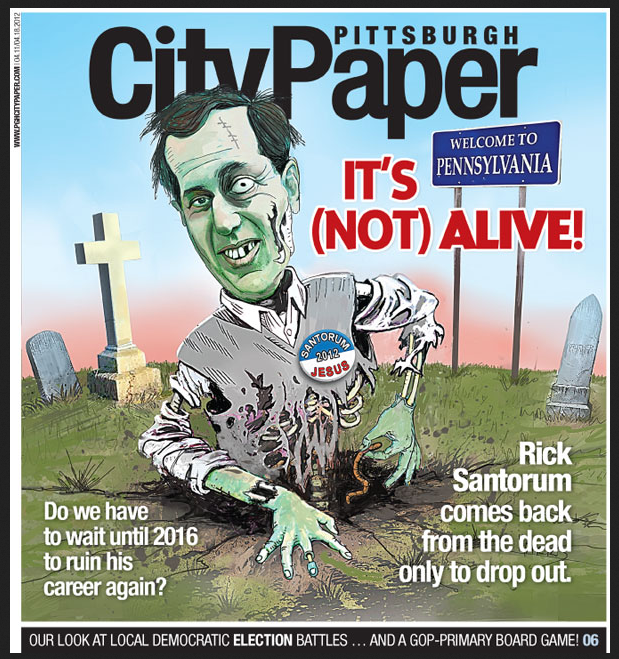 Just when you thought Rick Santorum's political career was dead and buried, the former Western Pennsylvania Senator announced in an
interview with the Washington Post Wednesday
that he is going to hit the campaign trail again in 2016.
From the Post's
Karen Tumulty
:
Rick Santorum won primaries and caucuses in 11 states in 2012, coming in a respectable second in the GOP presidential primary season. And Republicans have a history of bestowing their nomination on the next guy in line, usually an also-ran from the last contest.

Yet the former senator from Pennsylvania is rarely mentioned in the already feverish pre-game 2016 chatter among the political commentariat and the donor class.

That's just the way he likes it. Or so he says.

"America loves an underdog. We're definitely the underdog in this race," he said in an interview Tuesday. Santorum added that being underestimated — again — "has given me a lot of latitude."
Santorum has been out of politics since his failed run for the GOP nomination in 2012. Since then he's been running a
Christian film studio
and apparently plotting his return to politics. Santorum was able to drum up quite a bit of support before falling behind eventual nominee Mitt Romney. His success is what prompted
City Paper's
Zombie Santorum cover (pictured above) by artist
Frank Harris.
Interestingly enough, this cover was originally hours away from going to press with different language about Santorum's return to politics when he decided to drop out (hence the change in cover language).
It's unclear at this point how much of a chance Santorum has. Other names being bandied about, at least
according to GOP mouthpiece Karl Rove
, include New Jersey Gov. Chris Christie, former business executive Carly Fiorina, Louisiana Governor Bobby Jindal and Sens. Rand Paul and Marco Rubio. And if things weren't going to be tough enough for Santorum, he's still got that
pesky anal sex problem
.