The free event tonight celebrates the release of a book about Lance Loud, among the country's first openly gay celebrities.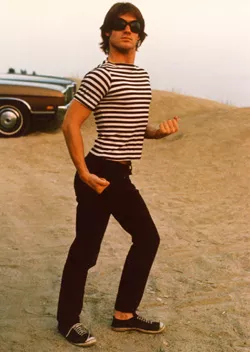 The book is
Lance Out Loud
(Glitterati Incorporated), by Loud's mother, Pat Loud, and editor Christopher Makos.
In 1973, the Loud family were the then-unconventional stars of An American Family, the PBS documentary series that was a proto-reality show. The evening at the Warhol includes a screening of an episode.
Loud revealed he was gay on national television, in 1973, when such things really weren't done. He was then in his early 20s.
He later moved to New York City and met Warhol himself, an event documented in the episode of American Family to be screened. Lance Loud died in 2001.
Makos was a friend of Loud's from his New York days. (He's also a well known photographer who took the accompanying image of Lance Loud.)
Tonight's event, which begins at 7 p.m., will also include a brief talk about the book, the TV series, and Lance Loud's relationship with Warhol, followed by a book-signing.