There's a cartoon on Christina Lee's
Instagram page
that caught my eye immediately when scrolling through her posts. It's a colorful illustration of a super cute girl positioned in a Buddha Squat, her hands held together in a prayer pose. And then, when you click on the cartoon to view it larger, the girl ... farts. A simple, animated "Poot!" It's brilliant.
Further down the page, the top half of a white, drooling cartoon dog with lopsided eyes stands in front of a bright pink and yellow background. Click on the image and scroll left, and the second half of the dog is revealed: a hot dog butt.
It's these types of whimsical illustrations and animations that sets the 26-year-old artist apart from the crowd. Lee excels at playful pieces of art that constantly leave the viewer doing a double-take. Originally from San Jose, Calif., Lee has studied illustration in London and graphic design in NYC, and now lives in Pittsburgh's Garfield neighborhood where she works as a designer for American Eagle and a freelance illustrator. She's also a zinemaker, on the board of directors for the
Pittsburgh Zine Fair
, and on the team at
PULLPROOF Studio
, a membership-based workspace for screenprinting artists.
We all need cheered up during Pittsburgh's long, cold winter, and Lee was the perfect person to illustrate this year's Winter Guide. Much like how excited we were scrolling through her Instagram feed, I'm predicting our readers won't be able to look at her cover artwork without smiling.
CP
caught up with the artist over email after she finished this week's illustrations to talk about her move to Pittsburgh, and the work she's most excited about.
What brought you to Pittsburgh?
I came to Pittsburgh for school back in 2010, and I stayed after graduated in 2014.
You've studied in London and NYC. What's Pittsburgh's art scene like in comparison?
I can't make the most accurate comparison since I was in London and NYC very briefly as a student, and not as a working artist. However, at first glance, the Pittsburgh art scene is small, yet robust. The artists who are a part of it are welcoming and interested in giving back to the city.
Your artwork is always full of surprises. Do you purposely seek out work that borders on the bizarre?
Yes, I've always been interested in the abject. I've always sought out universal human expression, and shock/awe and humor are two emotions I enjoy evoking in people.
What's the most fun project you've been paid to do?
The most fun project I've been paid to do is PublicSource's "Data on Race" article. I was hired by PublicSource to illustrate infographics that demonstrate racial statistics in Pittsburgh. I found the work profoundly impactful, and I learned a lot from the data I worked with.


Dream job?
I have several dream jobs. A few of them include Music Video Director, Independent Book Store Owner, and Animated Show Creator.
What inspires you?
I am discovering that I am obsessed with storytelling, specifically visual storytelling. I loved comic books while I was growing up, and I am rediscovering that side of me again. Currently, I am in the process of reading Sabrina, a graphic novel by Nick Drnaso about conspiracy theories involving the murder of a woman, and how the false narratives affect the victim's friends and family. I was particularly interested in it because it was the first graphic novel to be shortlisted for the Booker Prize, and its themes of fake news are particularly relevant in our current political climate.

Also, I'm reading The Diary of a Teenage Girl by Phoebe Gloeckner, a semi-autobiographical graphic novel about a teenager growing up in San Francisco in the '70s. I recently realized I have a strong interest in the coming-of-age story, especially from the female perspective, so I've been reading a lot of female autobiographies as well (in both novel and graphic novel format!) I'm also addicted to watching music videos, and I can't stop watching Vince Staple's video for "Fun" and Rosalia's video for "MALAMENTE".
You curated a feminist art exhibition last year at Future Tenant for the first time. How did curating a show for other artists compare to creating artwork for a solo show of your own?
It was really fun curating a show for other artists. I flexed my consolidation-building muscle, and also wrote a show statement that I was proud of for the first time in my entire life. It is much easier to write about other people's work than your own.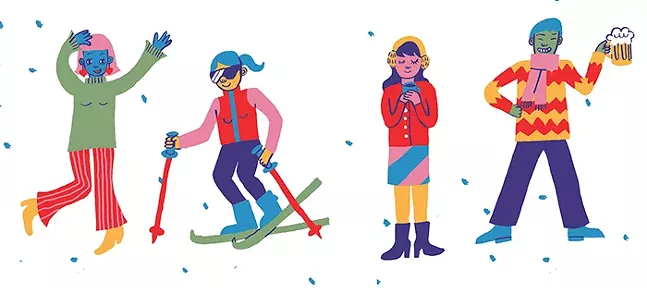 Do you think women artists have a loud enough voice in Pittsburgh?
No, I don't think women across the board have a loud enough voice in Pittsburgh. I think it's getting better, but across the board, the city is still a very male (and white)-dominated environment.

You're also involved on the board of directors for the Pittsburgh Zine Fair. Are there any new zines in town we should keep an eye out for?
I am actually in the process of curating a Pittsburgh Zine Fair Pop-up at Small Mall, a store in Lawrenceville that focuses on artist-made goods. I curated this section and will include zines by Rachel Ann Brickner, Jason Lee, Aaron Regal, Ceci Ebitz, Madeleine Campbell, and Maggie Negrete. The subjects of their zines include exploring Asian-American identity, women in the music industry, gentrification in Pittsburgh, and the anxieties of being a young adult in this day and age.
You included so many fun things on this week's Winter Guide cover. What's your favorite winter activity?
My favorite winter activity is having an excuse to stay in because it's too cold. And drawing!
Where can people buy your artwork?
People can buy my artwork from my online store, Copacetic Comics, or Small Mall.