The modern cultural lexicon has embraced the concept of the "clap back," an acute and (sometimes withering) response to criticism or oppression. This phrase, utilized and popularized by women of color, has taken its place in headlines, spoken word and internet memedom.
I'M NOT WITH HIM, a new exhibit at Future Tenant, is curated by Christina Lee. An artist, illustrator, designer and co-founder of PULLPROOF studio, her exhibit embodies the spirit of the clap back through works of five artists whose creations embrace feminist narratives through non-traditional mediums.
"I wanted to capture one specific definition of feminism which was saying, 'f**k you' back to the catcaller, which I think this work encapsulates," says Lee. "But it also represents other aspects of feminism as well."
This exhibit was initially meant as a solo show of artist Katrina Majkut. A visual artist and writer, Majkut's offerings are taken from her cross-stitching series ("In Control"), in which she uses the traditionally feminine medium of cross stitch to meditate on modern products for women's bodies, health and family planning. Her six pieces feature realistic depictions of items such as oral contraceptive blister packs, condom wrappers and a package of Midol.
"In colonial times, girls would make cross-stitch samplers to showcase their skills to prospective husbands. The motifs represented their values, religion, etc. ... It was like a calling card," says Majkut.
She appropriated the medium to focus on the physicality of wifehood, motherhood, and femininity, which she identifies as missing in women's historical narratives.
"I set out to correct that omission and modernize the practice, so people would start to think about physical identity in physical means," says Majkut.
Future Tenant saw an opportunity to complement this work by bringing in Lee, a first-time curator, to design a feminist-themed show around Majkut's work. Lee wanted to make sure the exhibit was diverse in medium and dimension while honoring the growing narrative.
"What I like about [Majkut's] work is that it's very loud. It's not every day you'd see something like Vagisil in embroidery," says Lee. "I really wanted to play up the sense of humor and DIY sensibility."
Lee sought other artists equally bold with their works.
Featured artists Hannah Epstein, Lizzee Solomon, Jenna Houston and Njaimeh Njie all have ties to Pittsburgh and work that focuses sharply on identity.
"These works subvert the male gaze by re-appropriating these so-called feminine mediums and doing something unexpected with them," says Lee.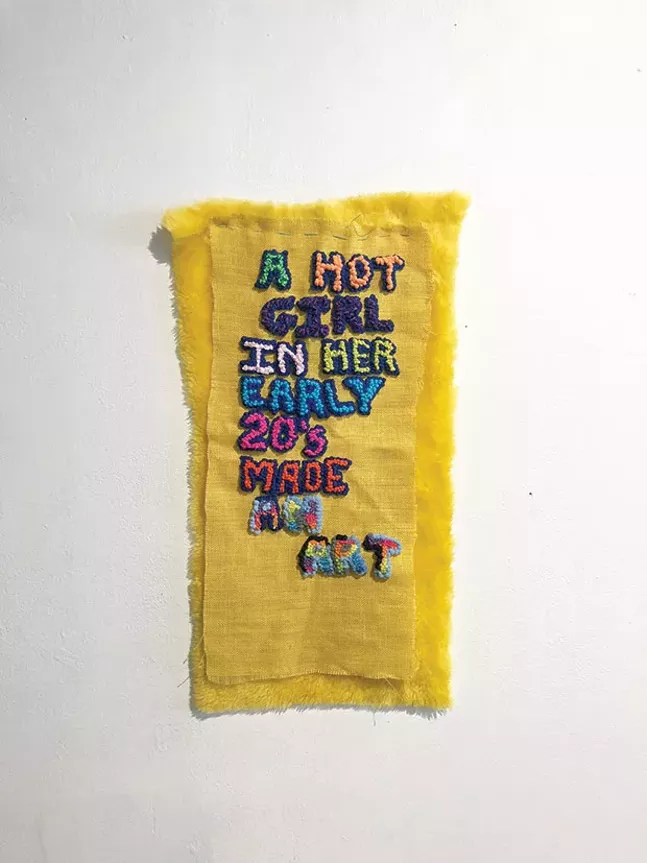 The works encompass many angles of the feminine experience. Houston, a multimedia artist and writer, is presenting their work on silk curtains that will be hung from the gallery ceiling. Their work, which deals with the intersections of medicine, gender, and queerness in the everyday, seeks to bring attention to lost physical spaces for the queer community.
Epstein uses rug hooking to highlight the way beauty and youth are linked to success in the art world in her piece, a hot girl made an art. Njie focuses on the everyday experiences of black women in Pittsburgh, giving voice to their narratives in an intimate way. Solomon mixes folk art and technology in acrylic portraits that examine her work as a woman artist.
Lee rounds out the exhibit with a curated library of feminist zines. Lee, who also helps organize the Pittsburgh Zine Fair, hopes to give more outlets to those who want to publish independent work and sell it. Subjects of the zines span sexual assault, feminist comics and Madeleine Campbell's popular Women in Sound series.
"I wanted to amplify the voices of these female zine creators by having a zine library in the show," Lee says.
Lee's touches can be seen throughout the curation. In preparation for arranging the show, she read authors like Alison Bechdel and Roxane Gay and hired an all-woman staff for the opening. The title I'M NOT WITH HIM pays homage to the #MeToo moment and riffs off the recent feminist rallying cry of "I'm with her."
After receiving feedback from the artists, Lee designed promotional materials to center the artists names.
"In order to subvert the male gaze, I branded it so the female exhibitors names are front and center, so you don't see the title first which centers on men," says Lee.