Teams of volunteers from all over Pittsburgh are ready to clean up the streets for the second annual Garbage Olympics.
Garbage Olympics co-organizer Alicia Carberry, describes it as a "friendly competition to get as much litter out of Pittsburgh as possible" and as a way to raise awareness of the fact that neighborhood groups are able to receive cleanup resources from the Department of Public Works.
"It's a driven effort to complement what the [City of Pittsburgh] already does and is getting better at," says Carberry, who co-organizes the event with Lena Andrews.
She points out how the city has tried to eliminate litter with the launch of smart receptacles that use sensors to tell when a block needs more trash cans. But more can be done.
"It's that education piece that people are able to organize on their own and bring neighbors together for a community building effort, to see a problem and take care of it," she says.
She believes the competition could inspire neighborhoods to create their own regular volunteer cleanup crews, such as the already established Pretty Up Beechview, the Bloomfield Garbage Gladiators, and the Troy Hill Trashletes.
Judged by Mayor Bill Peduto's Clean Pittsburgh Commission, the Garbage Olympics began in 2017 as a pilot competition between five East End neighborhoods, East Liberty, Lawrenceville, Garfield, Bloomfield, and the Strip District. The East Liberty Trash Warriors won the first ever Garbage Olympics
by bringing in over 560 pounds of trash. The team was richly rewarded with a trophy adorned with a plush of Sesame Street's trash-loving denizen, Oscar the Grouch.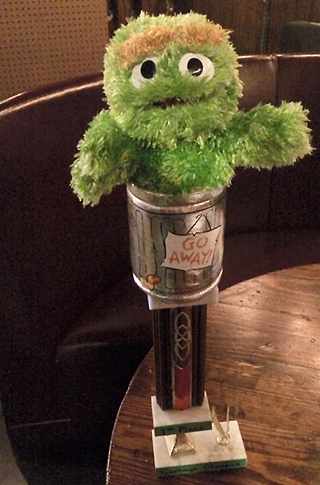 A press release claims that the first Garbage Olympics cleaned over 1,500 pounds of trash off city streets.
"Volunteers and litter clean-up crews are an important part of keeping Pittsburgh clean and beautiful," Peduto stated in a press release. "Our city also loves sports and competition, and what better way to get people out and cleaning up than with the lure of a trophy at the end?"
What started with five teams now has 25 teams representing areas such as Carrick, Allentown, and Greenfield. Oakland and the Hill District have two teams each.
There's no limit on how many volunteers each team can recruit as long as they pick up the trash themselves.
"Maybe your brother lives outside the city but wants to help out – that's totally fine," says Carberry.
On September 22, teams will spend two hours collecting as much trash as possible within the borders of their neighborhoods. Accepted items include everything from the usual stray bottle or empty soda can to large debris, like a rogue mattress, abandoned tires, or broken appliances dumped in an alley. The Department of Public Works will pick up the trash from designated locations.
The competition concludes with an after-party and awards ceremony at Spirit in Lawrenceville, where teams receive prizes for the most trash collected and the most volunteers organized, as well as for Dirtiest Volunteer and Weirdest Object Found.
"We're not asking for people to come to Spirit covered in grime," says Carberry with a laugh, adding that those vying for Dirtiest Volunteer can just take a photo and then clean up.
Those interested in participating should email garbageolympicspgh@gmail.com before September 20 to be matched to their neighborhood team leader and meeting spot.