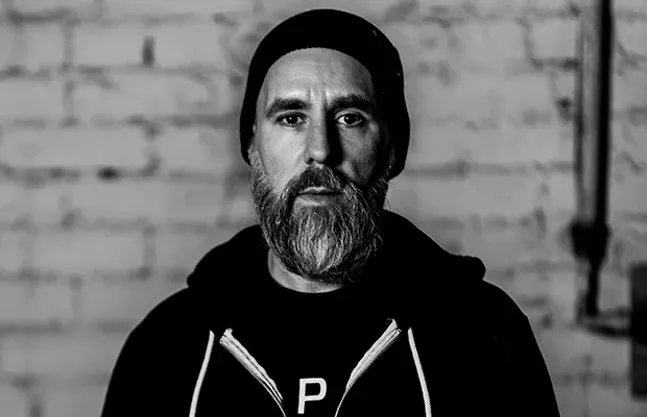 Like your rock music with a good beat and the occasional twang? Turn your radio dial to 91.3FM on Sundays and try not to stomp your feet. It's nearly impossible to sit still. Don't believe me? I've been a fan for years:
The Roots & Rhythm Mix, airing from 11 a.m.-2 p.m. every Sunday on
WYEP
, is hosted by Jesse Novak, of Dormont. During the day, he's a strength and conditioning coach for the YMCA of Greater Pittsburgh. But for three hours once a week, he works his magic behind the mic on Pittsburgh's independent radio station, bringing hits from artists ranging from Tom Waits to Townes Van Zandt to Etta James.
This Sunday will be his eighth anniversary hosting the show, as we recently learned on Twitter:
To help him celebrate,
CP
asked Novak eight music-related questions, one for each year of his show.
1. Do you remember the first song you played on air?

I wish that I knew. I've decided
that when I hang up my radio boots once and for all that the final song I will
play will be the live version of Ted Nugent's "Wang Dang Sweet Poontang." (That's
a joke, by the way.)


2. Favorite band or musician?

There are so
many that I could mention. I could geek out on questions like this all night.
I'll stick with roots-related artists and say Steve Earle, Bob Dylan, and
Lucinda Williams.


3. Favorite record?

Another
question with countless options. I'll list three: Steve Earle's "Transcendental
Blues," Waylon Jennings' "Dreaming My Dreams," and Willie Nelson's "Shotgun Willie."


4. Favorite local band or musician?

Because of my
work, I get up so early that getting out to support live local music can become
a challenge. I try to get out as often as I can, though. I'll say that I
definitely love Bindley Hardware Co., The Buckle Downs, Mixus Brothers, The
Local, Killer of Sheep, Eel, Derketa, Taphos Nomos, Slim Forsythe, and the
Cheats. There's so much underrated
talent in town.


5. Have any earworms you can't get rid of at the moment?

"Years," the
new album by Sarah Shook and the Disarmers, is amazing. The new record by Brent
Cobb is great too.


6. Favorite TV theme song?

It's not
much of a theme song per se, but Freaks and Geeks used Joan Jett's "Bad
Reputation." I loved that show.


7. Are there any artists that don't fit in with the Roots & Rhythm genre that you wish you could play on air?
No. The
show is so diverse. It's got
country, blues, soul, world music, reggae, western swing, early rock 'n' roll,
and more. There's not room for much more. One of the show's strengths is the
diversity. You never know what you'll hear next. I've done radio shows for long
enough that, at one point or another, I've been able to play just about any
artist and genre that I could ever have wanted.


8. Click shuffle on your music player. What five songs are at the top?

Buffalo
Springfield's "For What It's Worth"
Black Sabbath's "Into the Void"
Swans' "The Seer"

Return's "Goat-Disco Fever"

Ride's "Polar Bear"


Tune in this Sun., July 29 for his anniversary show where he'll be playing music "you might hear at a good party." Good luck sitting still as you listen.