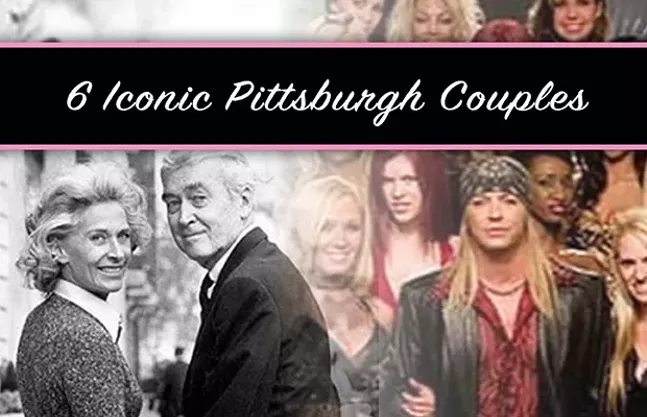 In the spirit of the royal wedding between Prince Harry and Meghan Markle, let's take a look at some of Pittsburgh's most iconic couples of yesteryear and today! Although they don't rival the House of Windsor, these couples are royalty to Pittsburgh natives.
1. Jimmy Stewart and Gloria Hatrick McLean

Jimmy Stewart is an icon of old Hollywood, starring in classics such as
Rear Window
,
It's a Wonderful Life
, and
Vertigo.
Jimmy also grew up in Indiana, Pa. On August 9, 1949, Jimmy Stewart married Gloria Hatrick McLean. Jimmy adopted the children from Gloria's first marriage. They had twin daughters, named Judy and Kelly Stewart. Gloria and Jimmy were happy, lifelong partners.
2. Joe Manganiello and Sofia Vergara

Joe Manganiello has starred in memorable films such as
Spider-Man
,
Behind Enemy Lines
,
and
Magic Mike.
On Nov. 22, 2015, Joe married television actress Sofia Vergara. Joe admits that he married his celebrity crush. Joe is an unabashed Steelers fan, and he frequently shows his black-and-gold pride on Instagram. Joe proves that you can leave the 'Burgh, but the 'Burgh never leaves you.
3. Fred Rogers and Joanne Rogers

Fred Rogers was the host of a PBS children's program called
Mister Rogers' Neighborhood.
Perhaps you've heard of it. Fred Rogers' earnest messages of love and self-worth resonated with so many young ones around the world. Behind every good man is a good woman, and Fred Rogers is no exception. Joanne supported and influenced Fred throughout his television career. Like Fred, Joanne had always recognized the importance of validating and building up children for success as adults. The couple were young lovers and married on June 9, 1952. They had sons James and John. The two had a lifelong, successful marriage.
4. Evgeni Malkin and Anna Kasterova

Pittsburgh is devoted to its sports — especially the Pittsburgh Penguins. Evgeni Malkin is a Russian professional ice hockey center and alternate captain for the Penguins. In the spring of 2016, Evgeni Malkin married Anna Kasterova. Anna is an accomplished television presenter in Russia. The two are without a doubt a stunning pair.
5. Jack Pearson and Rebecca Pearson

Jack and Rebecca Pearson are a fictional couple from the smash hit television show
This Is Us.
The show is set in Pittsburgh, and is scientifically designed to make you bawl. Many call Jack and Rebecca relationship goals. The two are respectively played by the gorgeous human beings Mandy Moore and Milo Ventimiglia. Oh, and Moore also happens to be the voice actress (and real-life embodiment) of Disney's
Rapunzel
.
6. Bret Michaels and Himself

Bret Michaels grew up in Butler, Pennsylvania. He was the lead singer of the never-to-be-replicated glam-rock band Poison. He sang hits such as "Every Rose Has Its Thorn"
and "Something To Believe In
."
Michaels also starred in the masterpiece VH1 reality show
Rock of Love —
a show where spray-tanned women fought for Michaels' affections. Although he chose Ambre Lake as his rock of love, the relationship fell apart shortly after the cameras turned off. Michaels should have taken his own advice that even the prettiest rose still has a thorn or two. Oh well, he still has himself and those sweet, sweet Poison royalties.