Sometime last week, state Rep. Dom Costa (D-Stanton Heights) sent out a mailer to some Democratic voters asking for their support. In the mailer, Costa is described as "a Democrat who has the courage to stand up for our progressive Pittsburgh values." The mailer then details Costa's support for guaranteed health insurance for children, protecting funding for public schools and fighting for safer working conditions. (It fails to mention, however, Costa's not-so-progressive support of
anti-immigrant bills
, pro-gun legislation and pro-life stances.)
But Costa isn't just trying to convince progressive voters in Pennsylvania state House District 21 to vote for him, he is also courting Republican voters. A copy of a mailer obtained by the Pittsburgh's Democratic Socialists of America, and shared with
City Paper
, shows that Costa is asking Republican voters to write in his name on the ballot. If Costa were to receive 300 Republican write-in votes, his name would appear on the November general election ballot, even if he lost the
primary election
vote to Democratic challenger
Sara Innamorato
.
"I ask the Republicans I serve to please write me in," reads a Costa mailer sent to registered Republican voters in the 21st District. The mailer then goes on to describe Costa in a GOP-friendly manner, citing his experience as a law enforcement officer and his "career protecting and serving."
Despite the contradicting messages, Costa's campaign defends the GOP mailer. "Of course Rep. Costa is proud to be a Democrat, but he is even prouder of creating a district where constituents feel like family," wrote the Costa campaign in May 9 statement to the
Pittsburgh Post-Gazette
. "Rep. Costa's decision to mount a Republican write-in campaign is not some underhanded political maneuver. He desires to win both nominations, unite the people of the 21st District and continue advancing policies that help everyday Pennsylvanians."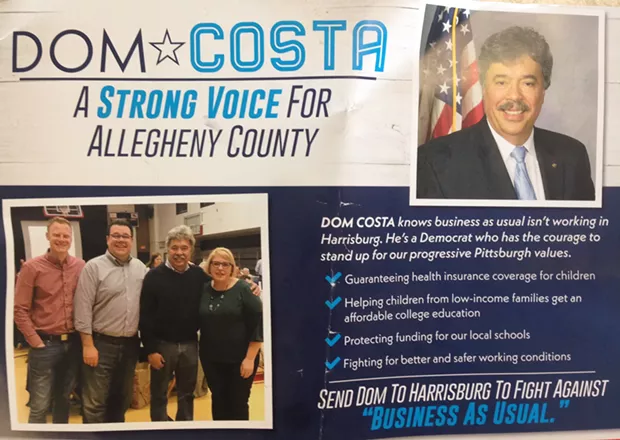 It's not uncommon for state representatives to try to get enough write-in votes so they appear on the other party's ballot. Pennsylvania Speaker
Mike Turzai
(R-Marshall) attempted this in 2016, and state Rep. Hal English (R-Hampton) regularly does this to get on the Democratic ballot. However, it's unclear how common it is to try to get on the opposing party's ballot when a candidate is facing a challenger within their own party. Typically, candidates, like English, are unopposed in the primary election, and get enough write-in ballots to stave off an opposing party challenger come November.
At least one prominent local Democrat condemns the strategy. Jim Burn is the mayor of Millvale and the former chair of the state Democratic Party. (He also endorsed Innamorato in April.) There's an argument that Costa could be covering his bases with this attempt, but Burn indicated that turning your back on the Democratic Party to do this is unacceptable, especially given that the Allegheny County Democratic Party endorsed Costa for this election.
"'Covering Bases' is an unacceptable justification when it means you are prepared to walk away from the Democratic Party whose support you solicited and endorsement you received because you are losing in a Primary,"
tweeted Burn
on May 9.
Innamorato agrees. "On one hand, it is deeply troubling for a 10-year Democratic incumbent to court Republicans in a last-ditch effort to hold onto power," wrote Innamorato in a statement to
CP
. "On the other hand, Rep. Dom Costa must be worried if his backup plan is abandoning the Democratic Party. As a Democrat who is currently his constituent, I find it shocking."
Innamorato believes the race will be a close one, and she thinks voters in the district will look sourly at Costa's attempt to sway Republican voters. "They are ready for a representative who will fight for single payer healthcare, clean air and water and an increase in government transparency," wrote Innamorato. "With grassroots energy breathing new life into the Democratic party again, Rep. Dom Costa's actions are bad for the Democratic Party. It appears he is more concerned with keeping his seat in the General Assembly than really moving Pennsylvania forward."
And, at least one District 21 voter agrees. Twitter user @SabrinaSpiher tweeted on May 10, "Dom Costa has the [expletive] gall to send me a mailer in which he claimed to be 'progressive.'"
The Pennsylvania primary election is on May 15.