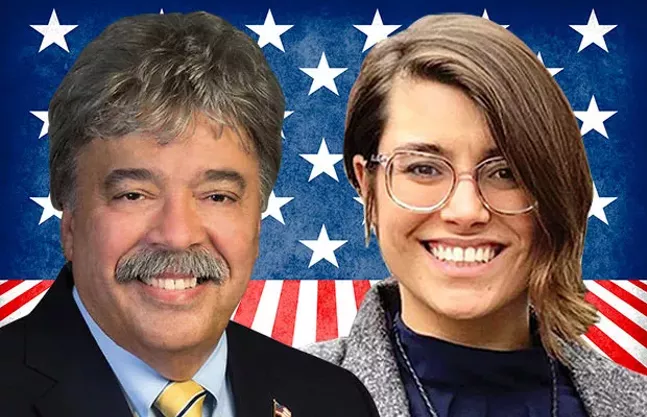 Both candidates in Pennsylvania's District 21 House race have contrasting ideas on where the district is heading. Democratic incumbent Dom Costa of Stanton Heights believes moderate political stances have the most support. Democratic challenger Sara Innamorato notes the district supported Sen. Bernie Sanders in the 2016 primary and believes her progressive stances will win over voters.


Dom Costa
Biography
The former Pittsburgh Chief of Police has been serving as a state representative since 2008. Has advocated for quality education, public safety, animal protection, affordable housing and expanding mental health, according to his campaign website. Leads the Allegheny County Democratic Party delegation in the state House. Lives in Stanton Heights.
Immigration
In the past, Costa supported bills making English the state's official language and banning so called "sanctuary cities." After constituents protested his votes on anti-immigrant bills, Costa has since dropped his support. Though in February 2017, he told CP that he refused to buckle to protesters' demands on "illegal and undocumented immigration."
Opioid epidemic
A member of the Heroin, Opioid Prevention and Education Caucus, Costa believes in working in the legislature to secure "access to high-quality prevention and treatment of the disease of drug and alcohol addiction." Has hosted public forums to bring together law enforcement, health-care professionals and experts to find solutions to the opioid epidemic.
Women's health
In 2016, voted in favor of a 20-week abortion ban, which was vetoed by the governor. Told the
Pittsburgh Post-Gazette
in 2017 that he believes in abortion under certain circumstances, but not as birth control. However, when a 20-week abortion ban was re-introduced in 2017, Costa voted against that bill.
Friends and Supporters
Costa is endorsed by the Allegheny County Democratic Committee, a few local Teamsters unions, two Allegheny County police union lodges and Pennsylvania's Service Union International Union state council. Supported by Pittsburgh Mayor Bill Peduto.
Sara Innamorato
Biography
Ross Township native and Lawrenceville resident, Innamorato graduated from the University of Pittsburgh with a business degree. Runs a nonprofit that helps prepare women to run for public office. Had volunteered on the housing committee of the community group Lawrenceville United. Says state government needs more young members with progressive ideals.
Immigration
Backs the "Sanctuary Commonwealth" bill that would bar Pennsylvania law enforcement from working with federal immigration officials. Told CP in March that she supports undocumented immigrants who are coming to the state to work hard and build families. "By supporting [this] bill, I would be joining their fight for a stronger economy, safer neighborhoods and creating a commonwealth for us all."
Opioid epidemic
Lost her father due to an opioid addiction, and says that personal experience drives her to end the epidemic. Believes a universal health-care system can combat this problem by treating those with substance abuse addiction with "humane, affordable and accessible medical care, not a jail sentence."
Women's health
Believes in women's right to choose to have abortions, and wants to craft legislation that protects that right. Believes Pennsylvanians should have access to affordable, or free, birth control, sex education, sexually transmitted infections prevention, and prenatal and pregnancy care.
Friends and Supporters
Endorsed by Pittsburgh's chapter of the Democratic Socialists of America, the national progressive group People for Bernie, the pro-LGBTQ Steel City Stonewall Democrats, Planned Parenthood, the Sierra Club and the statewide environmental group PennEnvironment.