In writing the
memorial piece
on the pioneering filmmaker for this week's print edition, I focused on his broad cinematic legacy, and on his influence on the local film industry. (
CP
contributor Mike Watt delves into Romero's place in film history more thoroughly
here
).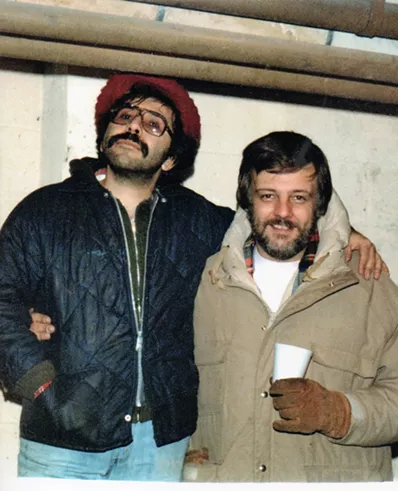 But worth emphasizing is the fact that no other major filmmaker has had such a long history in Pittsburgh, or shown such devotion to the city.
Romero, born in the Bronx, came here to study in the late 1950s, at what was then the Carnegie Institute of Technology. He'd live and work in Pittsburgh into the 2000s. (Locals will remember him keeping an address in Shadyside.) Obituaries have noted how he got his start in film here, co-founding a company called Latent Image that made instructional films and TV commercials, including "field trip" sequences for
Mister Rogers Neighborhood
. And the story of him shooting his classic
Night of the Living Dead
in Butler County, on a shoestring budget, is legend.
Less well-known are personal stories about Romero from the '70s and early '80s. Tony Buba,
a famed filmmaker in his own right
, first worked with Romero in the early 1970s — in the years immediate following the cult success of
NOLD
, but when Romero was still a jobbing filmmaker.
Braddock native Buba recalls recording sound and doing other crew jobs for Romero on projects as diverse as: a recruitment film for Chatham College; sex-and-violence footage to be used as inserts for an Italian horror film titled
Spasmo
; and — here's a little-discussed part of Romero's
oeuvre
— episodes of the
The Winners
, a series of short documentaries on local sports figures, mostly Steelers like Franco Harris and Joe Greene, but also Willie Stargell and Bruno Sammartino. (Buba remembers the crew heading south to shoot footage about Louisiana native Terry Bradshaw.)
Buba's work with Romero continued with
Martin
, a psychological thriller about a young man who thinks he's a vampire. These were also the early days of modern independent filmmaking, and scrappy, low-budget affairs they were. As the lead of what would become this cult-fave film, Romero cast John Amplas, a Point Park College theater student whom he saw perform in a production of the musical
Philemon
at Oakland's Pittsburgh Playhouse. (Bet you never imagined George Romero frequenting
stage musicals set during the Roman Empire
.)
"He gave me my first opportunity to do a lead on a film," says
Amplas
, who went on to perform Off-Off-Broadway and is now a Point Park theater professor.
Like seemingly everyone who worked with Romero, Amplas recalls him fondly. He says Romero's sets felt like family. That's literally the case with
Martin
, which Buba says was shot mostly at his mother's house, in Braddock, a mill town that even then was struggling with job loss and blight. Buba recalls the film's small crew — including future regular Romero collaborators like Tom Savini, Nick Mastandrea, Mike Gornick and Tom Dubensky— gathering outside the house at the start of shooting in 1976 to decide who was going to do what job. "It was almost like a pickup game: 'What do you want to do?'," quips Buba.
"My mother did the food prep," Buba adds. He also recalls his Italian-born grandmother praying that no one would be actually killed during the film's violent scenes.
"I had a lot of fun working with [Romero]," says Buba.
As the films got bigger, key crew members stayed with Romero, and often took different jobs. On
Dawn of the Dead
, for instance, shot in 1977, mostly at Monroeville Mall, Amplas did casting work. Amplas was back on screen for 1981's
Knightriders
.
John Rice, a script supervisor on
DOD
, remembers Romero down in a boiler room at the mall, improvising a chase scene. "He was kinda like making it up on the fly," says Rice, a Point Park film instructor and veteran independent filmmaker.
Romero's production offices were Downtown, on Fort Pitt Boulevard. Some of Buba's favorite memories of Romero were of simply hanging out there. "It was almost like going to school," he says, as Romero held forth on subjects like how to finance films. He adds, "George was also a great mimic" who would do spot-on impressions of cast and crew members.
Romero shot most of his films here well into the '90s: 1988's
Monkeyshines
, for instance, at locations including Carnegie Mellon University, and 1993's
The Dark Half
(based on the Stephen King novel) at Washington & Jefferson College and a private residence in Edgewood. But for many Romero regulars,
Knightriders
was the last of his films on which they worked: The productions just got bigger and more involved, and people moved on. But Buba credits Romero with showing Hollywood that Pittsburgh had crew talent , helping spark the surge in feature-film productions that hit town in the late '80s and '90s.
For as much as Romero's films were admired, the people who worked on some of the earliest of them remember him most as someone who brought people together. "He's going to be sorely, sorely missed," says Amplas. "He was a guy who was much loved."