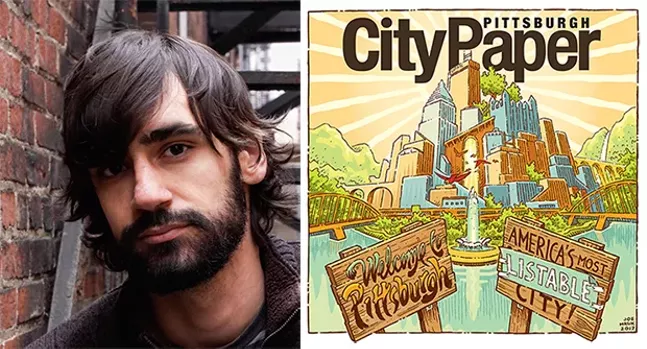 If you're tempted to hang up this week's City Paper cover on your bedroom wall, you're not alone. That's because our "Most Listable City" illustration was created by Joe Mruk, one of Pittsburgh's most recognizable poster artists.
Joe's posters for bands and music festivals are intricate and surreal, often taking the viewer into a fantasy world. Flip through his online portfolio or his Instagram, and you'll find everything from multi-armed ladies to mythical creatures in space. A poster for Pittsburgh garage rock band Wreck Loose shows rabid cannibal rodents; another for New York's King Buffalo shows beautiful conjoined twins sharing a spider's body. Creepy? As hell. And totally awesome.
Joe, a graduate of California University of Pennsylvania and a current resident of lower Lawrenceville, is a full-time illustrator who also does fine art and woodwork in addition to his poster art. We caught up with him over email after he was finished with this week's cover illustration.

What's your favorite thing about Pittsburgh's art scene?
In Pittsburgh, I found it fairly simple to get a start by having shows along the Garfield corridor of Penn Avenue during their "Unblurred" events every first Friday of the month. There is so much opportunity to be had there for fledgling artists, and landing a show by contacting gallery owners is the best experience for someone who has been working on their portfolio. I haven't participated in a show for awhile now, having mostly replaced my time painting with commissioned illustration work, but, earlier on, those shows served as plateaus to mark creative growth. I strongly urge anyone with a wish to facilitate their first show to participate in the Unblurred events!
You freelance under the identity Red Buffalo Illustration. Is there a story behind that name?
I wanted a name with a specific image but a broad iconic flexibility. For awhile now, leading back to before starting my freelance career in Pittsburgh, I was painting a lot of animals with intense colors, and that theme will likely never leave my work. And it's far more interesting, for me, to take the liberties of illustration into psychedelic territory by coloring things in unlikely combinations — green bulls, blue horses, red buffalo. I'm teaching a week-long summer arts camp on the Pine Ridge Indian Reservation, and it has made perfect sense to be drawn into a world where the buffalo (tatanka in Lakota) serves as a central spiritual symbol of strength and providence.
You've done a ton of poster designs for local musicians over the years. How did you first get involved with the city's music scene?
One of my best friends, Craig Freeman (from the band Lost Realms), pushed me into creating show posters, and then I got more work mostly through word-of-mouth and spreading it out over social media. Honestly, my work ended up being a much better fit for music-based illustration than the fine-art world I was immersed in during college. I gravitate toward simple narrative tendencies, and I love the transportive quality of music, so I hope I've been able to provide good visual interpretations of the narrative qualities of all different types of music!
Has a band ever requested more copies because fans stole all your posters before the show?
Luckily, I'm seldom the guy who provides the copies. I barely ever screen print anymore, and it's much cheaper for the bands to have their posters printed digitally to spread them farther out into the city. I love screen-printed posters, and I know an important and classic poster element is lost by not utilizing that process, but the compromise is that I can provide more colors digitally, and decrease that cost of printing. It makes the pieces more like paintings. Sometimes other print companies are contacted by bands to screen print my work, and sometimes they sell out! I did a poster for Lotus recently that sold out quickly, so the band requested a color variant for a second edition! I'm always psyched when that happens.
Have a band you're dying to work with?
Too many to count. My heart skipped a beat when I was provided the opportunity to do a Godspeed You! Black Emperor poster. Future dream posters would involve working with Califone, Stereolab, Janelle Monae, the Olivia Tremor Control, the Black Angels ... there are hundreds of bands I'd love to wrap some art around!
You also illustrated a poster for a fundraising event last year for John Fetterman. Was that your first foray into politics?
Yes, that was my first piece of propaganda. Fetterman's poster felt righteous because he has been doing so much for the city and Braddock in particular. Through demonstrating a fresh perspective on the potential for urban renewal, he's a symbol of the working class taking initiative to improve our cities not through gentrification but through the power of working alongside existing communities.
Will you answer the call if Trump calls you to illustrate his 2020 campaign poster?
If he did, all I would send him a drawing of a big psychedelic hand, middle finger extending to the heavens, made up of all the immigrants that truly make this country great. With a note that says "Go to hell."
You've taught drawing and illustration classes for kids. What's the craziest thing one of your students has asked you to teach them to draw?
An intergalactic space wolf bursting out of a black hole, most likely.
In addition to illustrating, you also do woodworking, and your online portfolio includes some pretty amazing multimedia art pieces utilizing animal traps. Do you have a favorite medium to work with?
I gravitate toward wood pieces because it's a fairly manageable way to make interesting borders and unique constructions. I'm not a fan of painting on canvas; wood has always made more sense to me. I use a scroll saw to bring illustrative elements into wood panels, and that helps enhance the artwork, not just from the front, but [on] all sides as well. The perfectionism of woodworking has allowed me to corral my obsessive-compulsive tendencies into creative expression!
This week's City Paper cover illustration was for a story on all those lists Pittsburgh keeps ending up on: "Most Livable City," "Best Family Travel Destination," etc. What would you vote Pittsburgh the best at?
Food, food, food. Every week I eat at an amazing restaurant or three. Independent breweries are a close second!
Any art shows or special projects coming up we should be looking out for?
The next volume of my Young Rabbit book series, which is a collection of tales from people around the 'Burgh and beyond, based on a single theme, will be coming out soon! The first volume was "Fight Stories," and the second will be "Ghost Stories." There will be nine in total. I'm also working on a special secret project that will surface by the time I've completed my hundredth poster (which will be a psychedelic poster for a HughShows event!), so keep an eye on www.redbuffalo.org for news on that soon!