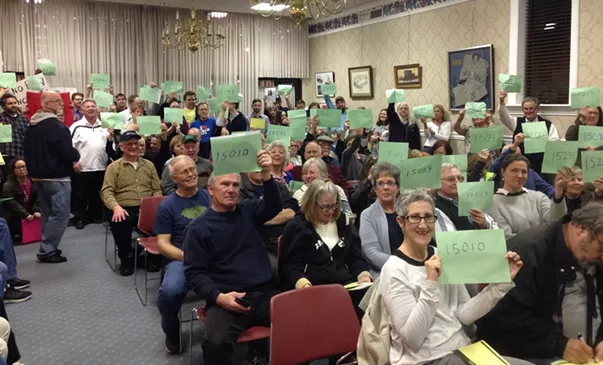 There's a common question among a group of Pennsylvania's 12th U.S. congressional district constituents: "Where's Keith?"
City Paper
has had
trouble tracking down
and speaking with the district's congressman, Keith Rothfus (R-Sewickley), in the past, and now similar problems appear to be spreading to the people who put him office. On Feb. 21, a group of more than 100 constituents held a town-hall event to address Rothfus in the borough building in downtown Beaver. Even though this is his first week back in his district while U.S. Congress is on recess and he was invited, Rothfus didn't show. But the group went on with the event anyway, with dozens of constituents sharing stories of how repealing the Affordable Care Act would affect them.
Dan Savini, of Center Township in Beaver County, told the crowd about how his wife, currently insured through the ACA, has been living with multiple sclerosis for years, and that she still has more than two years until she qualifies for Medicaid.
"Without [the ACA], she would not be able to get her medication," said Savini.
Savini was not shy about his feelings about Republicans in Congress, like Rothfus, who want to repeal the ACA. "In 2018, we got to come out and vote and get these guys out of here," said Savini.
Another speaker to address the increasingly rowdy crowd was Terri Miller of Beaver Falls. (Chants of "ACA, must stay!" broke out a few times throughout the event.) Miller is an ovarian-cancer survivor and has had four major surgeries in connection with eliminating her cancer. She's also concerned about what will happen if her ACA coverage is eliminated.
"I am afraid that I will lose my health care," said Miller, "because I have a pre-existing condition."
As the event was about to close, the more than 100 in attendance posed for a picture while holding up green signs with their ZIP code. Many Republican legislators, including Pennsylvania U.S.
Sen. Pat Toomey
, have accused town-hall-goers of being outside protesters and not actually constituents.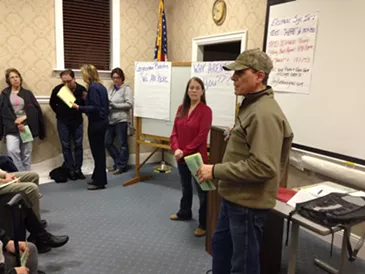 Tina Shannon, the event's organizer, said she had attendees hold up their ZIP codes, in case Rothfus accused her of "shipping in a bunch of people by bus."
On Feb.19, a few days before the Beaver event, another 30 constituents met at the Sewickley Public Library and invited Rothfus to discuss his stances on the ACA and a possible congressional investigation into Russia.
CP
also attended this event, and Rothfus never showed even though, according to Rothfus' first statement of candidacy form, he lives less than one mile from the Sewickley Public Library.
The Sewickley event was organized by Chris Allen, who lives in the 15143 ZIP code, which includes Sewickley and its surroundings. She also started the group Quaker Valley for Common Goods in December 2016 to organize liberal-leaning voters in her area. Since Rothfus failed to show up, attendees, including Allen, spoke to an empty chair with a "Where's Keith?" sign taped to it.
"My wife and I have been married since 1996, and I hear that you and the Republicans want to strip our rights," said Allen. "I want you to look me in the face and tell me you are taking my rights. I am appalled that a child being able to use the bathroom is under attack. You need to show up and do your job."
Ironically, Rothfus, whose office didn't respond to a request for comment on this story,
penned an op-ed
in Johnstown's
Tribune-Democrat
on Feb. 21, writing, "For decades, Washington has usurped the power and confiscated the wealth of ordinary Americans in ways our founders never envisioned. The founders established a limited government where sovereignty ... rests with the people. That is exactly what House Republicans are working to restore to our nation." (On Feb. 20. Congressman Tim Murphy [R-Upper St. Clair]
cancelled a Pittsburgh event
because he caught wind that a small group of constituents planned to attend and ask face-to-face questions.)
Shannon, who also runs the 12th Congressional District chapter of the Progressive Democrats of America, said on Feb. 21 that Rothus' absence is actually pretty typical behavior for the congressman. "He is not ever visible, and his positions are what we are against," said Shannon. "We want to make him scared to do what he wants to do, to hang that bell around his neck."
In fact, Rothfus' political rival, Democratic congressional candidate Erin McClelland has been claiming that
Rothfus has been absent for years
, and he rarely, if ever, holds town halls. In response to Rothfus' actions, Shannon said she has been working extra hard since Rothfus' re-election last November. And she said others are joining her.
"I have run out of sign-in sheets while canvassing," said Shannon. "I can't keep up. I had to form a data-entry team just to keep track of people wanting to join us."