On the morning of Nov. 23, Minister David Herndon arrived at First Unitarian Church of Pittsburgh to find an unwelcome surprise. A Black Lives Matter banner the church had put up just a few days earlier had been vandalized. The banner now read: Blue Lives Matter More.
"When I came to work that morning, I couldn't tell it had been vandalized at first and I caught sight of the banner and thought isn't this great that our neighborhood is so accepting," Herndon says. "But then I got closer and realized."
That day the church posted a picture of the vandalized banner to their Facebook page saying "Sad to think that even in our progressive, inclusive, multicultural neighborhood that our Black Lives Matter sign would be vandalized!" The post has since been shared more than 1,300 time and the church has received an outpouring of support.
"It's been amazing the support we've seen from people who are not part of our congregation who have reached out," Herndon says. "Over time my reaction has been to strengthen my resolve."
The original lawn banner had actually been a stand in for a much larger banner the church planned to plaster on their bell tower. And yesterday they put that banner up.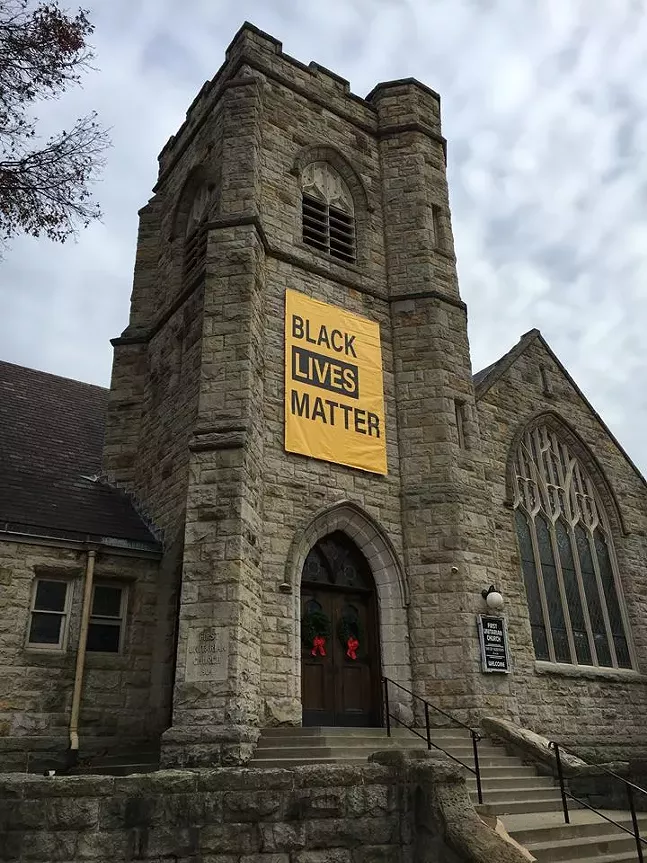 "Our denomination has been actively involved in racial justice since the 1950s and 60s. We went on record as supporting the Black Lives Matter movement and we wanted to support it here in Pittsburgh as well," says Herndon. "The congregation has been hugely supportive for the most part."
While the response to the new banner on the church's Facebook page has been largely positive, there are those against it. The comments section under photos of the new banner is riddled with "All lives matter" posts and one parishioner said he'd be leaving the church.
"So leaving my church and sad to do it but all lives matter. Every single one. Shame on you. And all of us members that we have created this deviousness. So sad on what my church has done. Disgusted," wrote Tom Waite.
Others wrote that the banner was an affront to police officers. But Herndon notes that he has a family member in law enforcement and says the church's message is not about vilifying police.
"We're not trying to be against police and law enforcement," says Herndon. "We respect those people and understand the risk they take to perform their jobs."
Now he's inviting members of his congregation and outsiders to have a discussion around the Black Lives Matter movement. He hopes discourse around the issue will lead to greater understanding and prevent future vandalism.
"It's our way of saying yes of course all lives matter but this one particular group have been marginalized, excluded, oppressed, really since the first slaves arrived," says Herndon. "We're trying to call attention to the reality that people of color in this country have lived under oppression for a long long time and continue to today."