Just five more performances remain of this fine production of last year's Pulitzer winner for drama.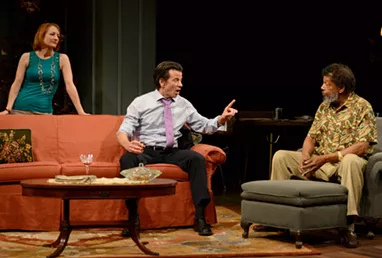 The playwright, Stephen Adley Guirgis, is arguably the hottest in the country right now. Earlier plays of his to cause a stir on local stages in recent seasons include
The Motherfucker With the Hat
and
Jesus Hopped the 'A' Train
(both at barebones theater);
Our Lady of 121st Street
(at Point Park's Conservatory Theatre Co.); and
The Last Days of Judas Iscariot
(at Throughline Theater Co.).
"Riverside" feels particularly incendiary at times. A retired, recently widowed cop is bitterly fighting a legal battle against the city while trying to hang on to his rent-controlled apartment and confronting his relationships with former police colleagues, his own ex-convict son, the son's flighty girlfriend, unstable buddy and more.
Guirgis' characters, as usual, inhabit a keyed-up world of salty humor and sudden violence, but the Public's cast and crew ably bring out the script's subtle emotions as well. It's a pungent mix of domestic drama, cop story, social commentary and sex comedy.
Here's Ted Hoover's
review
for
City Paper
.
Performances continue through this Sunday's matinee.
Tickets are $15.75-56 and are available
here
.
The Public's O'Reilly Theater is located at 621 Penn Ave., Downtown.