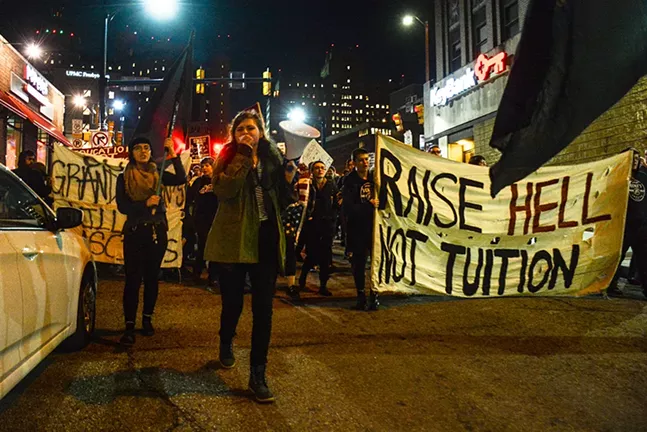 University of Pittsburgh police arrested two people Thursday night after a protest against student debt and president-elect Donald Trump on Pitt's campus turned violent.
According to Pitt spokesperson Joe Miksch, the students were charged with aggravated assault, resisting arrest and trespassing after they "attempted to enter Litchfield Towers lobby after being asked by university police to not do so."
Police attempts to clear the lobby of Litchfield's Tower B sparked a fight after police pushed a female protester who responded with a push of her own. Following the altercation, police subdued and handcuffed three marchers, including that woman.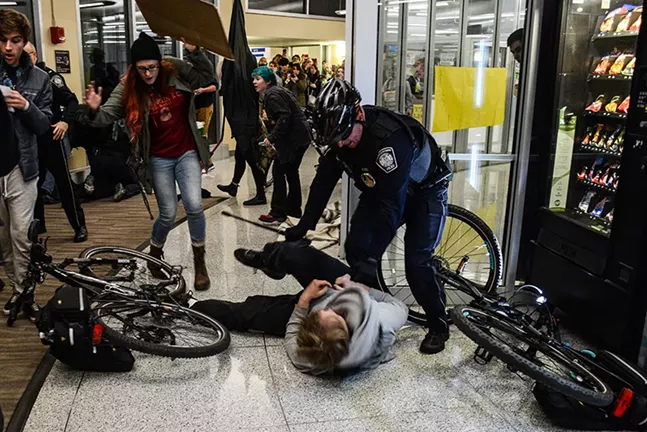 The demonstration started as a Facebook event hosted by Pitt Against Debt, a student group. But due to the recent election, anti-Trump sentiment coalesced around the march as well. Other groups, such as Pittsburgh Student Solidarity Coalition, also advertised the event on their Facebook pages.
Participants gathered outside the Cathedral of Learning at 5 p.m, spray-painting cardboard signs and sharing chant sheets.
The protest marked the third election-inspired demonstration within the last 48 hours to gather in front of the Cathedral, as well as one of at least eight demonstrations to occur in Pittsburgh in the nine days since the presidential election.
The assembled activists listened to speeches by numerous individuals. Among them were Michael Quinn, a Carnegie Mellon junior art major, who said he attended the event with "the knowledge that if [people] don't make noise," xenophobia, homophobia and racism would become "normalized."
Quinn asserted the crowd had an obligation to protest peacefully, to which a protester in the back responded, "You protest your way, I'll protest mine."
After a few warm-up chants of "no Trump, no KKK, no fascist USA," the protesters marched onto Forbes Avenue toward Carnegie Mellon, looping around Oakland onto Fifth Avenue.
Led by a fluttering black flag and banners reading "raise hell not tuition" and "our grandparents killed fascists", the marchers recited, "This is what a police state looks like," as Pittsburgh city police on motorcycles cleared the road ahead. Behind, bicycle-mounted officers, a police truck and multiple cars followed, lights flashing crimson and blue.
While debt and Trump were the announced focus of dissent, protesters chanted about issues ranging from Black Lives Matter to immigration to anti-police sentiment.
Emily Brower, a Pitt junior majoring in sociology, saw the point of marching as greater than any one issue.
"[Protest] lets us feel we have a voice," Brower said.
As the marchers, some with bandanas covering their face, entered Pitt's campus proper, they swung down Atwood Street, crossed Forbes Avenue, and then marched back onto the main artery after a brief foray down Sennott Street. The protesters' chants and signs drew the attention of pedestrians, who encouraged the protesters, complimented the police or pulled up their phones to record the event.
In response, demonstrators chimed in that the leery watchers should "get off their phones and into the streets." A few, such as a still-sweating jogger, accepted the invitation.
From Fifth, the marchers then climbed stairs to Litchfield Towers, and, over the objections of a Pitt police officer, entered through the revolving doors into the lobby.
For 10 minutes, member of the group gave speeches and sang. Some students stood and watched, while others continued on their way to their dorm rooms or the dining hall.
While inside, one student was detained — but not arrested — by Pitt police for planning to place speakers in the University's quad for a public, post-protest celebration. After marching to the quad, the protesters chanted at the still-trailing Pitt police to "let him go," as silhouetted students looked on from dorm windows overhead.
Re-energized by the police detaining a fellow student, the group marched back to Litchfield Towers. Finding its way into the main lobby blocked by police bikes, about a third of the group entered Tower B's lobby before police cut off its ranks. Cries for their friends' freedom echoed around the room.
Pitt Police then entered the lobby from both sides to evict the protesters from the lobby, pushing and grabbing protesters to herd the demonstrators out. One of the marchers pushed back, starting a brief fight between baton-armed police and a handful of the protesters, which ended with two women and one masked individual in handcuffs.
Police then quickly forced all the protesters out of the lobby, shoving and prodding them onto Litchfield Tower's patio. Reinforced by Pittsburgh Police armed with bean-bag shotguns, law enforcement pushed the protesters off University property onto Fifth Avenue's sidewalk.
Only two protesters were arrested; one, named Philip, was taken away in handcuffs into a waiting Pittsburgh Police car on Forbes Avenue. As police closed the door, protesters chanted his name.
Angela Ryu, a Pitt alum and current Pitt staff member who participated in the protests and watched events unfold, found the Pitt police's action ironic; in a Facebook post she shared on Pittsburgh Student Solidarity Coalition's website after the protest, she wrote:
"Let it be known that tonight, tuition-paying students were forced out of the spaces that exist and are maintained solely for their use by brutal force wielded by policemen who are paid through the tuition these students pay."