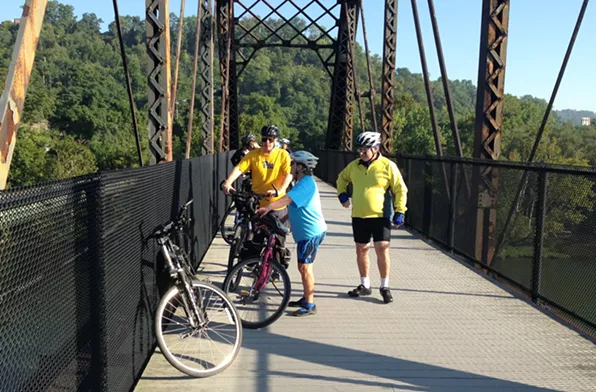 It was a perfect morning for a bike ride: cool and sunny, with a little wind. And Allegheny County Executive Rich Fitzgerald set out for a ride along the Great Allegheny Passage trail as part of the first leg of his journey to Washington, D.C.
This will be Fitzgerald's first time riding the full 335 miles of the
GAP
and C&O Canal Towpath trails, which offer a car-free connection from Pittsburgh to the nation's capitol. Fitzgerald will be joined by his daughter and her boyfriend for the entirety of the trip; others, like his wife, community groups and public officials, will ride along for sections of the trail.
"I do these trails a lot. I have not gone past Ohiopyle [State Park] at this point, but I do the Mon Valley, Homestead to McKeesport trail all the time. It is just beautiful," says Fitzgerald. "It is a nice peaceful way to clear my head and get a little exercise."
City Paper
followed along on the leg from West Homestead to McKeesport. This section of the trail starts at The Waterfront — a former steel-mill site in Homestead which was renovated into a shopping mall in 1999 — and follows along the Monongahela River, providing some scenic views. It also meanders through some of the poorest towns in the Mon Valley and past many industrial sites, some in use, but many not longer functioning.
CP
asked Fitzgerald about what can be done to help revitalize historically industrial towns.
"It used to be that 20,000 or 15,000 people worked in the Homestead [mill]," said Fitzgerald. "We're trying [to revitalize these areas], it is a much more challenging place. Companies like Google and Uber, they want to be near the universities, and the young people want to be in the urban core."
Fitzgerald said that some of the inner-ring suburbs, like Homestead and Millvale, are starting to see more economic revitalization, but those gains have not spread further from the the city. He said Allegheny County can try to give tax breaks to certain businesses to move to towns like
McKeesport
, but even that can come up short since most businesses are looking for high-level talent that have easy access to job sites. (Traveling from the East End or Downtown to McKeesport takes at least 35 minutes, without traffic, and public transportation options are limited.)
But Fitzgerald hopes that bike-commuters could help unlock the potential of the Mon Valley towns and that the region's bike trails can be used as drivers of economic development. He said the GAP trail provides a good alternative travel route to the Mon Valley. (Biking from the South Side to McKeesport takes about 10-15 minutes longer than driving if you factor in slower traffic.)
"The road system doesn't connect as well into Pittsburgh as it does on the trail," said Fitzgerald. "I think these trails have really become economic-development generators. As we go down to places like West Newton and Connellsville, they are starting to build up around the trail. It's terrific."
McKeesport also appears to be getting in on the trail economy. The city has converted an old snack bar into a four-bed
hostel
that sits right on the GAP trail, and the first floor of the Palisades building nearby has re-opened as a restaurant.