Attention Downtown bikers: By summer next year, a more biker-friendly Golden Triangle takes another step toward completion.
City officials discussed new bike routes with community members Monday night. According to Pittsburgh Bicycle and Pedestrian Coordinator Kristin Saunders, the city is currently gathering data and community input for the construction of bike infrastructure that would travel along either Boulevard of the Allies or Fort Pitt Boulevard and connect with the Eliza Furnace Trail ("Jail Trail") at Grant Street.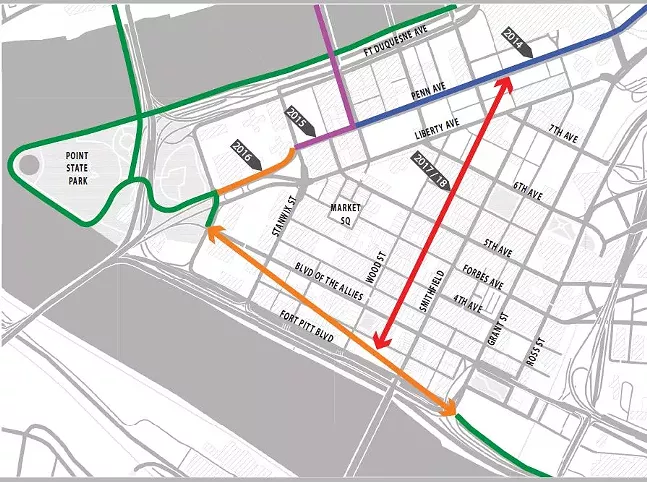 Construction is currently slated for August 2016 and the new infrastructure would also connect to the Penn Avenue bike lane, thus completing two sides of a biker's "golden triangle" (see image). The third side of the triangle would place bike infrastructure somewhere in the vicinity of Smithfield Street, running north-south, and is slated for completion in 2017 or 2018.
Envision Downtown director Sean Luther has been working to compile data of bikers Downtown. While he notes that the success of the Penn Avenue lane (see maps showing popularity of Penn Avenue's bike-share rides
here
), he says additional data has shown demand from other areas too. Luther notes that counts taken at the Smithfield Street Bridge and Sixth Street Bridge both tally more than 100 cyclists per hour during rush hour.
And Saunders says these numbers could grow if the city creates even better bike infrastructure. She cites a survey from Portland, Ore., that says 60 percent of those surveyed said they are interested in riding bikes in the cities but are concerned about their safety.
"If you provide safer connections to bike infrastructure, more people will bike," says Saunders.
And that is what the city hopes to do with their new Downtown bike infrastructure projects.
According to Saunders, initially the city was strongly considering bike lanes for Fort Pitt Boulevard, but after suggestions from key stakeholders, Boulevard of the Allies was thrown into the mix.
At a Dec. 11 public meeting, cyclists and other attendees seemed to form a consensus that the Boulevard of the Allies route could be a better fit than the Fort Pitt route. Local organizations and businesses voiced disapproval of the Fort Pitt route due to parking challenges, and a few biking advocates who initially thought Fort Pitt was the stronger option said they were swayed toward Boulevard of the Allies by meeting's end.
"It was interesting to hear that some people thought Fort Pitt was better, then say that they changed their mind during the meeting," says Saunders. "That is rare, but that is why we [hold public meetings]."
Eric Boerer, of BikePGH, says he is also leaning toward supporting the Boulevard of the Allies route. He says the route benefits from being more of a straight shot, and it travels through a business district and past Point Park University.
However, he says the bicycle-advocacy group's support depends on the final design of the bike infrastructure, which has a few options including a double-protected lane (like Penn Avenue) or two separate unprotected lanes.
Also on the docket for 2016, nonprofit Riverlife's Mon Wharf Switchback project will provide bike riders a car-free path from the Great Allegheny Passage entrance at the southern end of Grant Street to the Point that travels along the Mon River. A switchback allows cyclists to ride up a moderate slope that doubles back (see image below), so they can reach elevated areas (such as the Smithfield Street Bridge depicted here) in a relatively short length.
Boerer adds that the these connections are important to the area's bike tourism, too. The Great Allegheny Passage is part of a car-free trail that runs more than 335 miles from Pittsburgh to Washington D.C., and is a growing tourism draw. Boerer says finishing these projects is important to making the last section of the trail better for riders, which helps draw tourists who want to ride to the Point, and also helps boosts all bike projects in the city.
"It is so important to have all of these connections," says Boerer. "If we want all of this to be successful, we need to continually expand upon it."