Yesterday, Josh Shapiro's campaign for Pennsylvania attorney general announced the candidate had been endorsed by former Gov. Ed Rendell.
"Josh Shapiro has a record of reform, from passing the strongest ethics-reform law in generations while I served as governor to cleaning up a fiscal mess in Montgomery County," Rendell said in a statement.
In the release from the campaign, Rendell said Shapiro is "the only candidate who will restore integrity to Harrisburg."
"I spent eight years as District Attorney of Philadelphia, and I know how important it is to have a strong, principled leader dealing with matters of law and order. To me, there is no better choice than Josh Shapiro," Rendell continued. "I really believe in Josh and I am all in for this important race at this critically important time."
Shapiro is set to face Allegheny District Attorney Stephen Zappala, Northampton District Attorney John Morganelli and incumbent Pa. Attorney General Kathleen Kane in the April 26 primary.
"I'm extremely honored to receive the endorsement of Ed Rendell — a great prosecutor, mayor and governor," Josh Shapiro said in yesterday's release. "Ed Rendell knows what it's like to reform complex government agencies, clean up big messes, and provide responsible leadership that moves Pennsylvania forward. I look forward to continuing that work as the next Attorney General."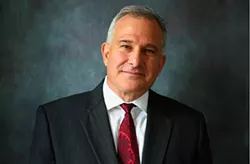 But Shapiro isn't the only candidate picking up endorsements this week. On Monday, the Pittsburgh Regional Building Trades Council endorsed Zappala, who formally announced his candidacy in December at a luncheon hosted by the Pittsburgh Building Trades Council.
"Workers in the Pittsburgh region have had no better friend than District Attorney Stephen Zappala. He has always been responsive, fair and fearless when it comes to enforcing the labor laws that protect American jobs, keep workers safe, and safeguard our rights to collective bargaining and addressing our grievances. We are confident that our brothers and sisters throughout Pennsylvania will see in Stephen Zappala what we see and embrace his candidacy," said Richard Stanizzo, business manager for the Pittsburgh Building Trades Council in a statement.
According to Zappala's most recent campaign-finance reports, the labor unions have made up a large portion of the contributions to the candidate's campaign. Zappala has received funds from the Western Laborers' Political Action Fund, International Union of Operating Engineers Local 66, Steamfitters Local 449, International Brotherhood of Electrical Workers Local 5, the Carpenters Legislative Program of Greater Pennsylvania and the Plumbers Local Union.
"Working families in Pittsburgh know I've stood up to the most powerful people, politicians and corporate special interests who have the money to hire an army of lawyers — so that our working- and middle-class families know the system isn't rigged against them. I am truly honored to have this important endorsement," Zappala said in Monday's endorsement release.