UPDATED (8:40 p.m.): The Pittsburgh Citizens Police Review Board has opened an inquiry into a Pittsburgh City Police Officer's interaction with a
City Paper
reporter following the incident at the Wood Street T Station this afternoon.
CPRB Executive Director Beth Pittinger told
CP
that "the conduct demonstrated by the officer on that video was so excruciatingly unbecoming on its own merit that there is really nothing to look into." Pittinger made the decision on her own and
CP
was informed when she was contacted for comment for this story.
"His demeanor was not a command-and-control demeanor," Pittinger said. "He was probably driven by his anger."
"Banging on a light pole like that can be an attention-getting technique used by officers. But it was done here in a way that had no intention of gaining public order. He was angry. He wasn't professionally engaging people and anybody can ask me to defend that statement."
Pittinger said she opened an inquiry and sent a note about the matter to Police Chief Cameron McLay "asking him what it was all about. I expect this will be dealt with quickly."
When asked if the officer's conduct was inappropriate, Police spokesperson Sonya Toler told
CP
Editor Charlie Deitch this evening that "if that's your belief then you need to file a complaint. I'm Not going to judge anything beyond that."
When asked for a police command opinion on the officer's conduct Toler said, "If you want a command opinion you need to file a complaint."
The detention and citation of five individuals at the Wood Street T Station between 3:30 and 4 p.m. this afternoon spilled out onto Liberty Avenue and led to some tense moments between police and onlookers.
According to Port Authority spokesman Jim Ritchie, PAT officers allegedly caught a suspect, a minor, tampering with the escalator at the Wood Street T Station. Ritchie alleges that the juvenile fought back and kicked officers. That juvenile was taken into custody and taken to the Shuman Juvenile Detention Center. Ritchie says an adult male and three other juveniles tried to intervene. The adult was arrested and taken to the Allegheny County Jail. The three other juveniles were also detained, cited and then released.
A female cousin of the arrested juvenile told
City Paper
that police "jumped on him, but they did not ask him who pulled the switch."
"[The officer] was a big man, and you jumped on him for what?" she asks. "We are asking them and saying 'that is our cousin,' we need to know what happened. But then they did not want to tell us."
But the action inside of the station was just the beginning.
Both Pittsburgh Police and Port Authority of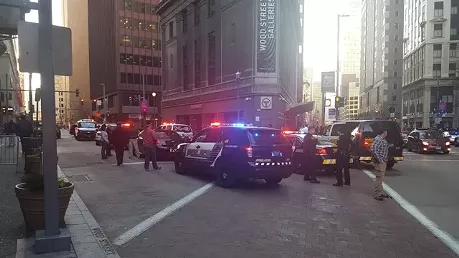 ficers then started to clear people out of the area as multiple police cars arrived on scene.
City Paper
was present as the vehicles arrived, and officers brought out canines to disperse the crowd. After the section of Wood Street between Liberty Avenue and Sixth Avenue was filled with police vehicles, people started to yell at the police, some claiming the police mistreated the teenage boy and others chanting "Black Lives Matter."
Two boys standing near the Wood Street and Liberty Avenue crosswalk, were told to move farther away from the scene. One Port Authority officer clad in street clothes with his badge visible around his neck, called out to the two young men asking "do you want trouble?" and told them to back away. They were around 20 to 30 feet from the group of officers and vehicles.
One boy quickly backed away, but another in a yellow sweater stood his ground. At that moment a group of three Port Authority officers dashed at him and tackled him to the ground, and threatened to used tasers. And although one taser was held in the suspect's back, it was not discharged. The officers handcuffed the teenager and placed him in a squad car.
After this arrest, many officers forcefully whipped out their batons and told the crowd gathering on the sidewalks on the other side of the Liberty Avenue
to back away further from the scene. Some hit their batons against metal mailboxes and light posts as they screamed at the public to back away. Many officers yelled that if people did not disperse further — though many were already more than 100 feet from the scene — that "they would sic the dogs on them."
A Pittsburgh Police officer, as seen in the video above, then approached a crowd of people on the sidewalk, including a
CP
reporter, with his baton extended yelling, "Make sure you get it all on your tape, big boy, with your telephone." While the officer in question told the group to back away, at least one citizen walked by him and towards the arrest scene. The officer then moved people down the street before turning to walk away and slammed his baton into a metal light pole.
Pittsburgh Police spokesperson Emily Schaffer said that the Port Authority Police responded to the incident and that Pittsburgh Police only arrived as back up and did not make any arrests.