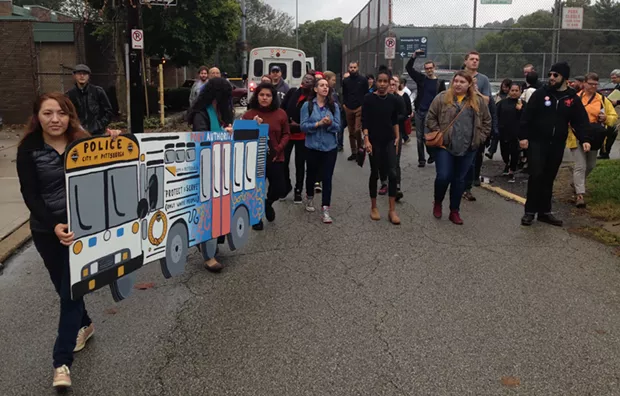 The Port Authority of Allegheny County is proposing a new fare-check policy on its light-rail trains, in which
Port Authority police officers
will be patrolling stations and cars and asking for proof of payment. If a rider fails to prove payment, officers will run the name through a background check and give the passenger a warning. Upon repeat infractions, riders can be issued criminal charges.
On Oct. 12, a group of 30 advocates marched in Morningside, requesting that state Rep. and Port Authority board member Dom Costa (D-Stanton Heights) reject the fare-check proposal. Gabriel McMorland, of the social-justice advocacy group The Thomas Merton Center, has met with Port Authority officials and spoken at multiple authority board meetings about the potential harm this policy could have on vulnerable populations that often use public transit, like low-income earners, the homeless and
undocumented immigrants
. Before the march, McMorland said that possibility of putting someone into the criminal-justice system for failing to pay a $2.75 fare is overly punitive.
"They do not appear at all concerned about the potential dangers we brought up," said McMorland. "We want to stand up against over-policing in this community."
Nationwide, there are a handful of other transit-police agencies that use armed officers to enforce fare-evasions, such as in New York, Dallas and Cleveland. The policy of Cleveland's Regional Transit Authority is similar to the proposed Port Authority policy, as it makes multiple infractions of fare-evasion a criminal offense. However, recent news reports from Cleveland have highlighted flaws in the RTA system.
In September, the
Cleveland Scene
wrote about how some RTA transit cops believe that RTA's fare-check policy is
merely a way to generate revenue
, and how citations were disproportionately targeting black riders. And in July, TV station WKYC reported how the RTA was charging teenage students with
criminal offenses
for failure to show their school ID, which acts as their transit pass.
At the Oct. 12 rally, Brandi Fisher, of the Alliance for Police Accountability, worried that if Port Authority were to institute this policy, a minor fare-evasion infraction could escalate, given the oft-tumultuous relationship between minorities and police officers. "Things like traffic stops and pat-downs often escalate to a place where serious things occur, like death or major injury," said Fisher. She cited the case of
Leon Ford
, who was severely injured by Pittsburgh Police officers after being pulled over for running a stop sign.
Alma Brigido, the wife of deported immigrant-rights activist
Martin Esquivel-Hernandez
, told the crowd that this policy will likely decrease ridership among undocumented immigrants, who utilize public transportation because Pennsylvania doesn't allow them to obtain driver's licenses. "We are obligated to use public transportation in our daily lives."
As
City Paper
reported in June, undocumented immigrants could be potentially in threat of
deportation with their first fare-evasion
infraction. Even though the proposed Port Authority policy prohibits officers to ask for identification, authority officers will still run people's names through a database that U.S. Immigration and Customs Enforcement has access to.
A coalition of advocacy groups surveyed local Latino transit riders and found that about 80 percent of them would stop taking the T, if the proposal were implemented. Monica Ruiz, of Latino-service organization Casa San Jose, said this is troubling because many Latino residents and many undocumented immigrants live in
Beechview
and other South Hills neighborhoods which the light-rail serves. Ruiz told
CP
she spoke to one woman who would stop taking the T if the policy were implemented, and she told Ruiz that armed officers on the light-rail would make her and her children "very afraid."
The group of 30 marchers ended their march at the office of Costa and delivered more than 300 letters from constituents, asking Costa to oppose the proposed change.
When asked for comment on this story, Costa's office directed
CP
's request to the Port Authority. Adam Brandolph, spokesperson for the Port Authority, emailed
CP
the following statement: "Interim CEO David Donahoe delayed implementation of the proposed fare policy on our light-rail system in June due to unexpected equipment issues. He has taken that time to review how other transit agencies enforce fare payment, and he has not recommended any changes thus far."
The date for the Port Authority vote on the fare-check policy has not been determined.